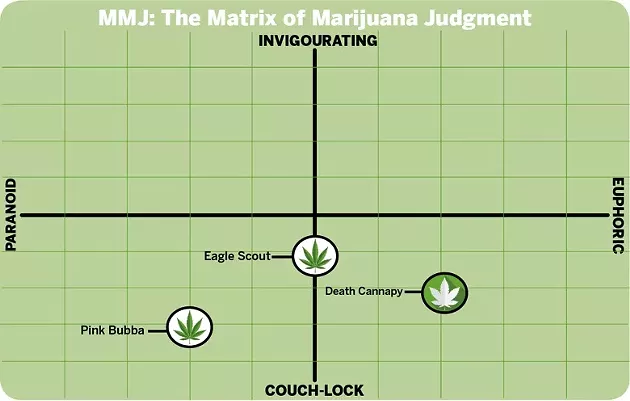 Well jeez. Fall is here and I only swam in the ocean twice, wasting another summer ashore overcaffeinated, hungover and trying to suppress my trusty seasonal head cold while meeting various deadlines. These melancholy autumn breezes are gusting in a craving for a deep comforting strain, and so I've been reaching for the twilight embrace of Cannabis indica.
Sativas and indicas are the two main types of marijuana, and their differences are the first lesson in conscious cannabis consumption. The former is energizing, cerebral and best for daytime use; the latter can bring on body highs and couch-lock, and is typically recommended for bedtime. Because poetry occurs naturally in the wild, the flowers' effects mirror how they grow in nature: Sativa plants love the sun and manage well outdoors, where indicas enjoy staying in, flourishing in enclosed spaces.
Sativas and sativa-dominant hybrids are often used to treat attention deficit issues and depression, making them my go-to for staying motivated and alert. However, a peppering of family illness, accidents and fleeting bittersweet visits paired with relationship stress (plus that aforementioned lack of salt water!!) has left me in need of a more sedating smoke. Worrisome and even unwanted thoughts began to fracture my imagination as the stressors piled up, and so I began a quest for a peacemaking indica knock-out.
Sativas and indicas are the main marijuana types—their differences are your first lesson in conscious cannabis consumption.

tweet this
I do always keep "pm" weed around, usually to ease joint pain and to help slow down my motor-mouthed psyche to get some good shut-eye. Pink Bubba, a cross of beloved indica Bubba Kush and potent hybrid Pink Kush, smokes sweet and smooth with a faint pine taste, and makes a perfect "intro" strain. The high unknotted my clenched fist of a brain, deflating my rigid and obsessive worry to a soupy, semi-dreamy state. The idea of sitting down to a task seemed more like a joke than a possibility as my Bubba brain wandered down paths on its own accord. It was a welcome distraction and I felt permission to simply rest, choosing to stay stationary without the physical couch-lock restriction. Pink Bubba didn't quite blast the tension from my anxiety tight spots though, and where some strains are capable of pinpointing pain and melting it away, Pinkie fell short of the heavy stoned solace I was hoping for.
North end dispensary Coastal Cannapy recently released a Death Cannapy strain that blends the soothing force of Death Star and BC medical favourite Death Bubba. A deep, woodsy bud with hairy orange highlights, it boasts juicy crystals, deep earthy inhale and diesel/berry exhale. The high wrings your mind of its daily thought buildup with a heady burst early on, then mellows into a giggly state and wards off abrasive thoughts. Death Cannapy is one of the most versatile indicas I've tried—I've comfortably microdosed with my partner before accomplishing gentle tasks, rolled it up for a communal nightcap with friends and vaped my worries away alone before bed. I love the mental flow from the energetic "wringing" to toasty tranquil marshmallow, and the pain relief that followed.
My favourite misery-indulging stone of all came from Greenpoint Seed's Eagle Scout. A swaddling indica hybrid best paired with a jazzy soundtrack on a misty day as you drive around with a long-lost sibling, shooting the shit and getting preemptively depressed because you know they're just gonna leave town again (or whatever your bizarre Wes Anderson issues that get exasperated in the fall are). Dense, deep purple and delicious, Eagle Scout is a crossbreed of megastar sativa Girl Scout Cookies and well-balanced hybrid Stardawg. Its therapeutic high shook away emotional walls and chronic pain alike, and perfectly complement a reflective, moody spirit. Keep your eyes peeled to score this meditative wool blanket bud, then settle in to watch the leaves change colour and blow away into winter.
Lucy LaPlante is The Coast's cannabis reviewer. You can email your local recommendations to her at halijuana@thecoast.ca.