Good morning sports fans, the blog post you've been waiting for all year has arrived. March Madness is back, but we won't be reporting on college basketball here. In the spirit of the NCAA tourney, its brackets and fine folks at Jezebel we're bringing back our whacked tournament for another year of shit-talking and poll-clicking. Dedicated readers may recall our pub-style match up between Beer and Bar Snacks (get a refresher of the action here). It was heated. Deep-fried even. And after many tight matches locally-brewed new kid on the block (and a 10th seed, no less) North Brewing Co.—then Bridge Brewing Co.— came out victorious, defeating the slippery snack and number three seed, chicken wings. Oh the glory!
This year we're putting our serious reporter hats on pitting the tried and tested muckrakers of Old Media against the well-seasoned headline writers of New Media and you won't believe what happens next....
Well, believe it. Here's the full tourney at a glance.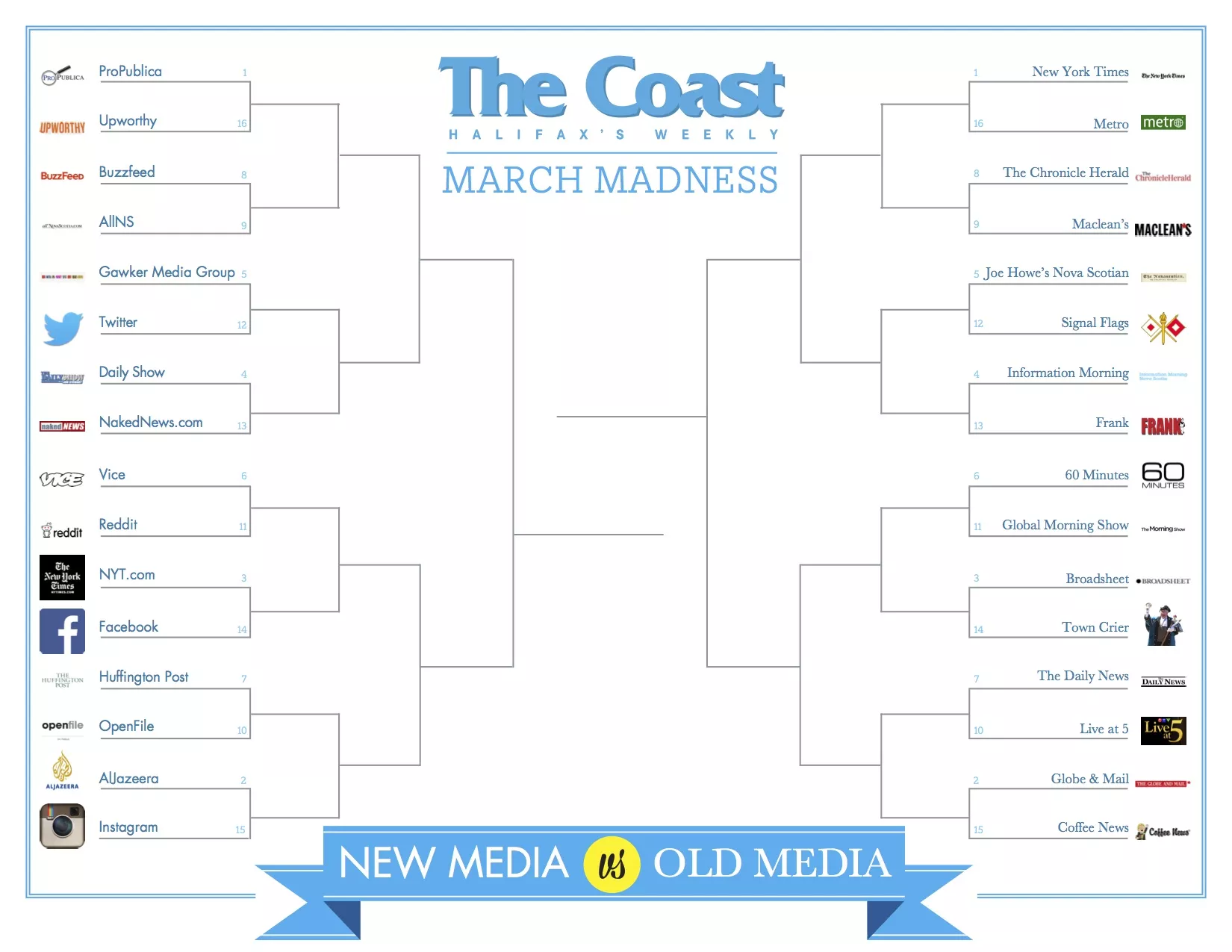 We kick off day one with the number one seed ProPublica and the major underdog (coming in at 16th) Upworthy. Will the indie, Pulitzer-Prize-winning, public interest investigators over at Pro be able to stomp out the master-click-baiters at Upworthy? It's complex. It's emotional. It's not as simple as you might think, and it's about to get even worse.
Over on the veterans' side where people prefer the tips of their fingers stained with ink, top dog New York Times (number one seed) faces Metro (16th place) in a battle of internationally read, hard copy newspapers. Is it even possible that Metro is headed anywhere but the recycling bin? Not likely. It's tough to compete with a paper that does it all—breaking world news, arts, fashion, debate-starting opinions, photo journalism, video content, food trends, pop culture etc. etc. etc.— and does it well. But then again, who knows? Maybe full-page ads on the cover are the way this newspaper biz of ours is going. Or maybe Metro will win over votes with its attainable free-ness.
Voting closes tomorrow morning, check back for the play-by-play and tomorrow's nerdy rivalries.