It's Monday and we're happily entering ROUND TWO of our March Madness bracket brouhaha, where the showdowns are even more cut-throat and the jokes are even lamer. Our March Madness is all about New Media and Old Media going head-to-head, battling to see who's still relevant. Here's a little background if you're new to the sport and you can check out the full bracket below.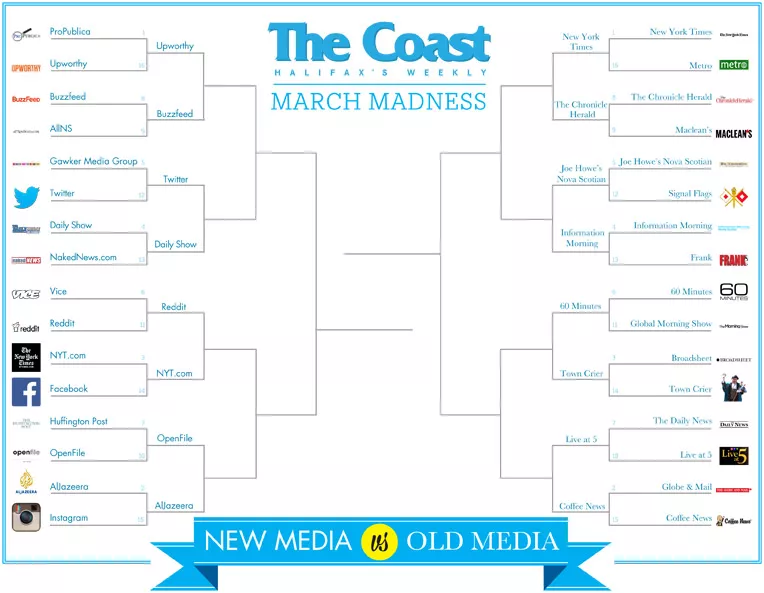 The final face-offs of the first round packed a mild heat on Friday. In Old Media the dad jokes and trivia reared their ugly (but really accessible) heads and The Coffee News—a 15th seed—demolished The Globe and Mail, 71-28. It doesn't make sense, you say, but the New Media match makes even less sense. In the first-ever time one of these poll's votes have actually added up to 100 percent...we have a TIE! What!? Fifteenth seed non-news platform that somehow squeezed into this tournament, Instagram, split the vote with second seed, Al Jazeera. It's even more confusing than why the votes didn't add up in the first place. Anyhow, in a very official and sportspersonlike matter I've flipped a coin to award Al Jazeera bragging rights. Team Instagram probably too busy picking a filter to even notice. Valencia would probs give a nice moody defeat feel.
Today in New Media's round two we have 16th seed Upworthy taking on 8th seed Buzzfeed. Clearly ranking means nothing on this side of the bracket, and we're OK with that. Underdogs and upsets forever! These to share-friendly sites are going to have a hell of a time defeating each other. Upworthy's This Is The Only Video You Ever Need To See Ever In Life packs heat but Buzzfeed's 67 Thoughts Everyone Has When They Go To Starbucks is...OK that's a horrible example. Regardless, these two competitors get each other, they're playing the same game, the tug-on-your-heart-strings-appeal-to-your-nostalgia-pique-curiousity-waste-your-god-damn-time-game. One difference: Buzzfeed writes some really great long-form features some times. So, journalism! Isn't that what this who thing is about? Er...
Over here on the seniors' side we put our press cards in our hats before tipping them to number one in the Old Media pool, New York Times and eighth seed our local daily the Chronicle Herald. Both of these newspapers still print real hard copies that people read, what champs! But only one of them is the New York Times, so there's that. Vote local or vote legend.
Thanks for playing, more fun tomorrow.