We're back/still at it, chugging away at this Coasty-version of March Madness, a really sporty, stats-heavy bracket that has your favourite treats—pop and chips—fighting for the top spot of the tournament. If you're just tuning in now, you've missed a full week of bottles and bags and should probably catch up here.
Here's a look at how it all began, in bracket form.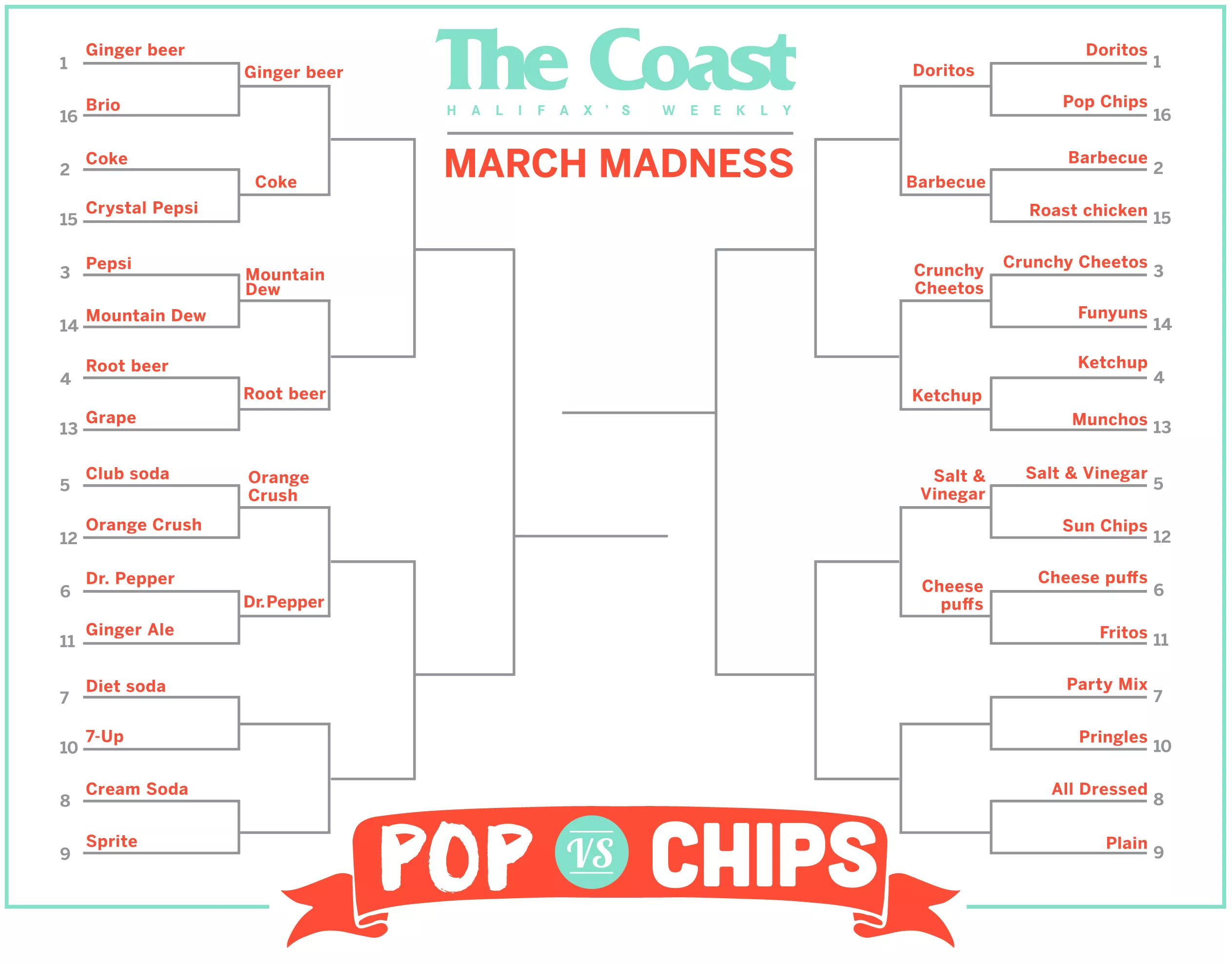 Let's discuss yesterday's results. Let me break this to you gently. The almighty Ginger Ale has fallen. Hard. The pop conference revealed that the Dr. is in the house, and it's not going anywhere, with a 113-64 defeat—our largest voter turnout thus far. Really, you guys broke out the thunder sticks and face paint for Dr. Pepper? As much as I'm crushed to see 11th seed, Ginger Ale, go, I really can't argue these numbers. The southern belle reigns victorious.
The chip match-up had a better result proving that it is in fact easy being cheesy. A 56-34 win means that the fifth-ranked Cheese Puffs will be leaving a trail of neon orange fingerprints all the way to the top 16. Chester the Cheetah couldn't be reached for comment.
Day seven brings a bit of a snore on the pop side, but there always has to be a snoozer, right? The incredibly vague seventh seed "diet soda"—which could be any diet pop you desire, because it is an imaginary sports team— takes on 7-up, the 10th seed that has a cherry mascot even though it's lemon-lime flavoured. You don't always get brains and brawn, I guess. Diet anything is the worst, so I'm gunning for the uncaffienated dummy that is 7-up to school aspartame's ass.
When it comes to your daily salt fix, the seventh place Party Mix takes on the 10th seed, stackable "newfangled potato chip" Pringles, a snack created to counter the often crushed, greasy potato chips of the 60s. I see Party Mix as a clear front-runner here, but there's one weakness that might be big enough to drag it down—the pretzels. Ringolos, Fritos, crunchy Cheetos and Doritos—all awesome on their own, some even strong contenders in this competition—will have to hustle to make up for the shitty, dry, boring snack that is pretzels. Can they stop the pop that is Pringles? It'll take teamwork.