This is it. In what is arguably the most important day of this thing, the final four, you'll decide the fate of The Coast's March Madness final, choosing the ultimate chip flavour, and the ulitmate pop flavour. All blame will be placed firmly on you if Dr. freakin' Pepper wins. Confused about where all my passionate feels are coming from? Read up on the whole game here.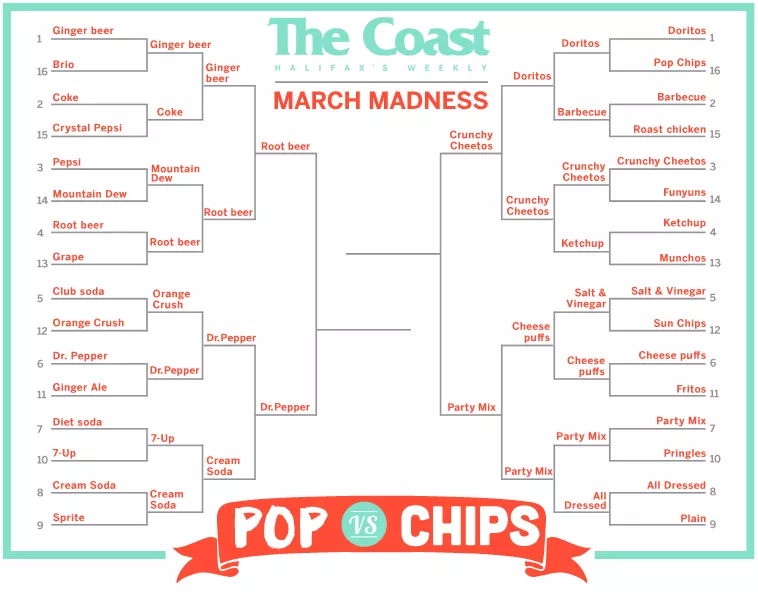 As you can clearly see, some impaired decision making went down yesterday. Stupid idiot Dr. Pepper (sixth rank) beat out Cream Soda AKA Dream Soda AKA eighth place unicorn juice. And crusty old pretzels beat Cheese Puffs. OK, Party Mix feat. pretzels beat Cheese Puffs. It was a seventh place versus sixth place, and a tight 19-13 match, so all's fair in love and snack, I guess.
Today sees aforementioned fool Dr. Pepper—who I'm totally going to slay on Rate My MD after this—taking on nature's candy, brown sugar and fourth seed Root Beer. HOPE FLOATS, y'all! I'm rooting for the beer.
The swan song on the chip side is a kind of silly one. It comes down to third seed Crunchy Cheetos on their own, or mixed in with a bunch of other delicious stuff in seventh seed Party Mix. Are you a conservative Cheetos eater or an adventurous one?