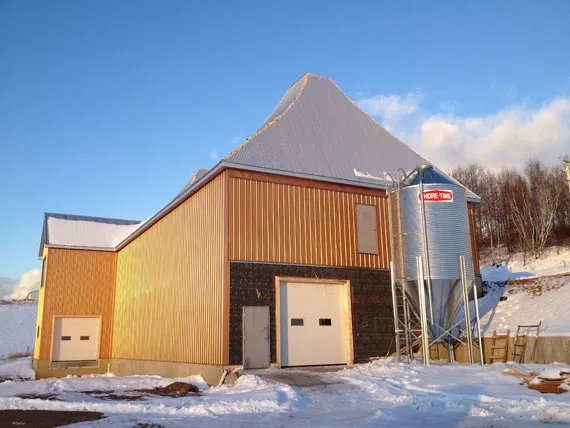 You're out for a pint, minding your own business, when your beer-nerd friend—everyone has one—starts on a rant about the full, rich, enticing body of their chosen brew. Though mildly annoying, that friend's on to something.
When people talk about a beer's body they're basically talking about malt. Malt gives beer that lingering flavour, the one you remember. Think of it this way: Hops punch you in the palate, malts hug you and tell you everything is OK.
And soon these mediating little grains will be malted right here.
Alan Stewart, the man behind Nova Scotia's first malt house, Horton Ridge Malt & Grain Co. in Hortonville, is getting ready to release his first batch of local malt. He calls it craft malting, and says it's the next step in carrying the same philosophies behind craft beer, back through the supply chain.
This year Stewart's facility will be malting grains imported from Saskatchewan—Nova Scotia doesn't grow enough here to handle the 200 tonnes he needs. But that's something Stewart is working on changing.
"Right now there's a gap between in the supply chain. We've started an industry and it's going to take a few years for farmers to catch up," he says. "With that said, I have a rye field across from the malt house and as early as next fall we could be supplying up to a quarter of our own grain needs."
Set to hit the market in April, brewers across the province are already excited about what the new malts could mean. Jeremy White, of Cape Breton's Big Spruce Brewery, says Stewart's malts could be very unique and that uniqueness could be the magic ingredient behind some really cool brews.
"If we're growing rye and malting it locally, think of the possibilities," he says. "A rye-PA with locally malted and grown grains, locally grown hops and good old well-water—that's a real Nova Scotian beer."