Halifax council Tuesday will take up the "boundary review" issue---the re-jigging of electoral districts to meet population changes.
This is usually a matter left to bureaucrats and policy wonks, but unfortunately lots of nonsense has been added to the mix this time around, so it's quite possible that we're going to see council produce a redistricting plan that won't just move a few boundary lines but will instead reduce the number of councillors, which in turn will have negative effects that should concern all of us.
Just as the "tax reform" issue was clouded and confused with all sorts of buzzwords originated by propagandists with their own narrow interests, we've lately seen "common opinion" shaped and informed with bullshit. As with "tax reform," the end game is pretty simple: rich people want to rip off the rest of us.
Unfortunately, a great many people are regurgitating the propaganda wholesale. "Council is too big, and so is dysfunctional," goes the line; "reducing the number of councillors will reduce the bickering, and make council more efficient." No one much considers that "bickering" is often people standing up for residents' rights and needs, or that the most "efficient" form of government is fascism, but never mind that, people have got it in their heads that council is too big, and that's the end of the discussion.
I've tried to argue against this trainwreck-in-making before:
Reducing the number of councillors necessarily means reducing the number of people whose concerns are heard at council. And who's that going to be? You guessed it: poor and marginalized people. The best financed and most connected citizens already get heard before the rest of us, a trend that will only get amplified if each councillor represents a larger population.
But that argument didn't gain much traction, so let me try on a new one: making council smaller is going to hurt downtown.
Presently, urban residents have greater per capita representation on council than do non-urban residents. The Utility and Review Board, which signs off on the districting, allows up to 10 percent variation in district population, without questioning, and will allow up to 25 percent variance, if the city makes a strong case. In the past, the city has successfully argued that urban districts should be somewhat smaller than non-urban districts because, as it was explained to me, urban councillors have more work---there are necessarily going to be more infrastructure issues and zoning disputes in the middle of the city than out on a farm in the Musquodoboit Valley.
In May, the Boundary Review Committee pretty much randomly decided that council should be reduced by three members, to 20, and that's the recommendation the full council will be dealing with Tuesday. But how will that play out in terms of relative urban strength?
There are an infinite number of ways that reduction could be made, but for the sake of this post, I've assumed that council will present a plan that has more equal representation per district, because I think it's unlikely council will both reduce the number of districts and keep the urban weighting---the population disparities simply become too large, from the present 3,000 to maybe 6,000. I've summarized two possible redistricting scenarios in the table below.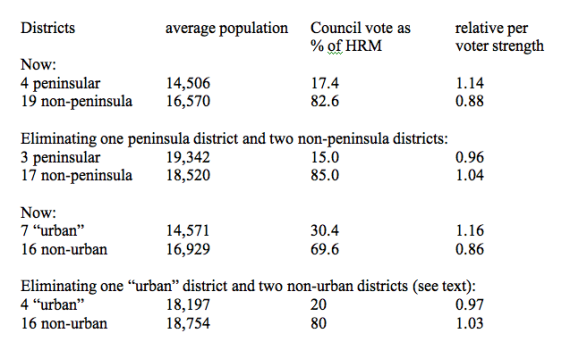 In the first scenario, council reduces the number of peninsula districts by one, and the number of non-peninsular districts by two. In that case peninsular residents lose the relative voter strength they have over non-peninsula residents.
In the second scenario, I look at what happens in a reduction that, on the surface, might appear less anti-downtown than cutting out a peninsula district. Suppose council decides that the fairest way is to cut one district from each of the kinds of districts---that is, council decides to cut one urban district, one suburban district and one rural district.
This is somewhat of a judgement call, but with the present district boundaries, I can identify seven districts with urban features: the four peninsula districts plus Fairview-Clayton Park, Dartmouth Centre and Albro Lake-Harbourview. To be sure, the councillors representing the three non-peninsular urban districts don't always vote in the same fashion as peninsula councillors, but that's in part because there are significant numbers of suburban residents in those districts.
But I'd argue that making these districts on the urban-suburban fringe bigger necessarily changes their character to more suburban than urban. Definitely in the case of Fiarview-Clayton Park and Albro Lake-Harbourview, the districts will change from being urban-leaning to suburban-leaning. So now we have seven urban districts, but for the purposes of examining what happens when they're reduced in number, we have to assume just five, being reduced to four. I recognize this isn't exactly right--- voting blocks will get shifted around in un-knowable ways, and voters don't fall into strictly urban, suburban and rural characters---but I use this to illustrate the larger point: however you do it, each reduction in district numbers will bring more suburban voters into what were previously urban districts.
There are a couple more points that need to be made.
First, critics might say, "tough---that's democracy, one vote per person." I'm not weighing in on that argument, but I find it interesting that the "reduce council size" position seems to be held most strongly by urbanites and downtown promoters---the very people who have the most to lose with a smaller council.
Second, some people will look at the chart and say it proves why HRM should be split in two, because even under the existing situation peninsular councillors are far out-numbered by suburban councillors.
But that argument misses one of the main reasons for amalgamation: the control of suburban sprawl, which necessarily hurts downtown. It's true that downtown councillors on paper don't have much power in terms of controlling sprawl, but in actuality, the creation of HRM led to the regional plan, which, while a far cry from perfect, is better than what existed before, which was nothing at all.
If we cut the suburbs off from downtown politically, then the resulting suburban government would have no constraints on it at all---every sprawling suburban subdivision ever proposed by a developer would get approved, and there's nothing at all any downtown councillor could do about it. It'd be sprawl on steroids. And no way is that good for downtown.