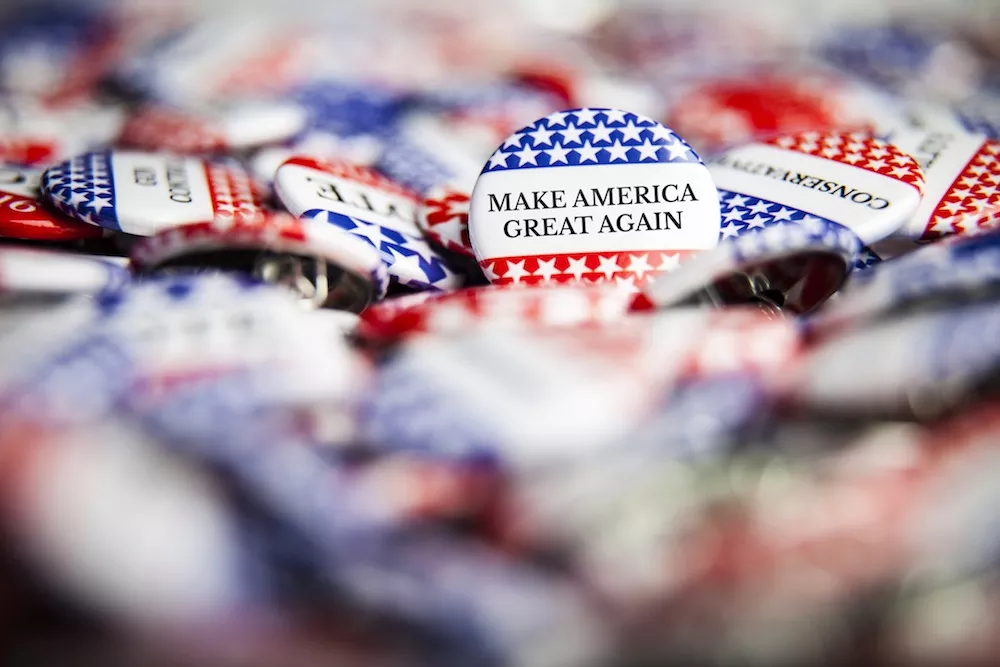 Two words that should never be spoken in polite company are now the planet's nightmare: president Trump. Is that extreme? I hope so. Although like they say, hope for the best, plan not to visit the States for a while.
At its greatest, America as a country was an inspiration for the rest of the world. Not aggressively liberal like Sweden or anything, but it championed a nonetheless radically democratic upward mobility. The American dream promised a country with a system so different, so much better, that anyone who committed to it would become a success.
Forget the fact this dream was built on shaky foundations from the start, as the equality promised to "all men" by the USA's constitution didn't apply to anyone who was black or female. The US was so confident in its democratic superiority, the power of its freedom, New York features a challenge to other countries on a giant statute. "Give me your tired, your poor," it reads. "The wretched refuse of your teeming shore." Our exclusive system is so amazing, it can turn nobodies into somebodies. In other words, we make your weakest part of our greatness.
He is next door, short-fingered vulgarian in chief of the country where truth just died.

tweet this
As a dual Canadian-US citizen born and raised in Halifax, I've had enough remove to see the American dream's complexity as both democratic ideal and debased sales pitch. Post-election, I'm struggling to understand what exactly my fellow Americans were seeing. I was thrilled to cast my ballot for Hillary Clinton in all her experienced and capable complexity. It felt like a vote for the future. (And yes, I did vote for her in New Hampshire, although I also Instagrammed a copy of the ballot with Trump picked to see the reaction. The abject horror did not disappoint.)
The greatness Trump is selling—sold—has nothing to do with returning to core US values of equal opportunity and putting immigrants to work. As expressed clearly during the campaign, his promise is to put the white man back in "all men," to build walls and dismantle bridges against others' teeming shores. Where America dreams of being a global keystone, Trump's allusions suggest North Korea, an isolated land sustained by its own lies. After all, such a place is the only nation this skilled fabricator of fabrications is qualified to lead. Yet here he is next door, short-fingered vulgarian in chief of the country where truth just died.