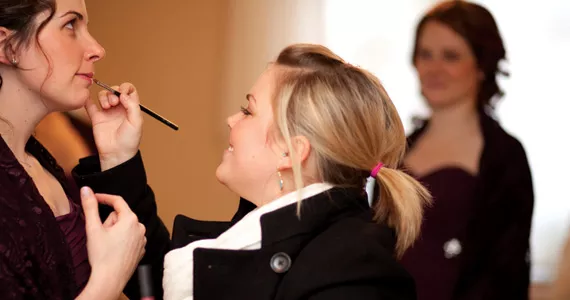 Do you have any tips for keeping makeup sweat-proof, cry-proof and long-lasting on the big day?
There are a variety of long-lasting lipsticks available. MAC has great colours---this is the brand I always go with. Applying a little bit of gloss over your long-lasting lipstick keeps it looking fresh all night. Having beautiful lips keeps everything looking great. Always go with a waterproof mascara and keep a bit of pressed powder by your side, applying once an hour to keep glowing all night.
Have you noticed any new wedding makeup trends lately? Do you have any advice for women looking to wear something more bold on their wedding day?
Going natural seems to be very in right now and I think it's important to look like yourself on your wedding day. If you are used to wearing bold makeup every day and that's what you feel comfortable with, then go with that. You should look like a slightly more glamourous version of yourself! I always offer a makeup trial before the wedding, this way you can try different looks, wear it through the day and decide which one you are most comfortable in. You want to look back at your pictures and have the makeup looks like it blends in, not be the one thing that stands out.
Do you have any tips for those with sensitive skin who still want to look polished on the wedding day and want to avoid breakouts and irritation?
Keeping your skin moisturized before your wedding is very important, it helps your skin glow and stay healthy. Test all your makeup long before your wedding day, just to be sure you don't have a reaction to the makeup. If you do have sensitive skin, make sure to let your makeup artist know and he or she can test all the makeup on you before the day of your wedding.
Any suggestions for environmentally friendly makeup?
There are so many beautiful brands of environmentally friendly makeup and so many colours to choose from. Burt's Bees has lots of options and is a great place to start. Some brands tend to be a bit more expensive; however, if you want to go chemical-free it is well worth it.
---
Selena Marchand
Selena has been practicing makeup artistry for over five years and attended Blanche MacDonald Centre in Vancouver with a focus on beauty, fashion, film and television. Since relocating to Halifax she has focused on bridal makeup, which she considers a nice balance between beauty and fashion.
selenamarchand.squarespace.com