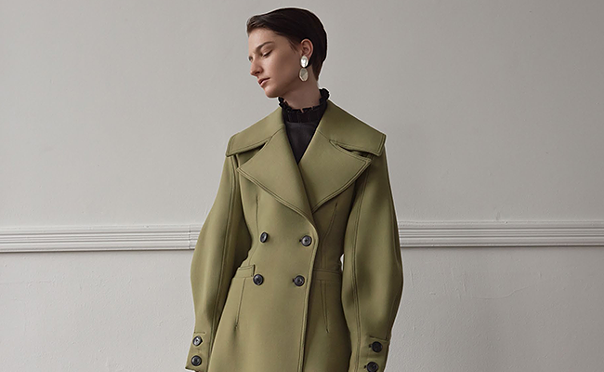 Dialect
Saturday, April 22, 7pm
NSCAD Port Campus, 1107 Marginal Road
$15/$25/$100

Toronto high-fashion brand Beaufille, full of neutral-hued separates and slick slip dresses, is a study in restrained volume that begs to be shown off at the city's chicest spots.
But swirling amongst the bell sleeves, shooting through oversized tartan re-imagined as a fluid, matching suit set, is Halifax—and in particular, one of Halifax's brightest gems, NSCAD University. The art school is "What we do, how we do it and why," Parris Gordon, one half of the sister duo behind the brand, says via phone.
She explains that her NSCAD fashion background, which focused on "being conceptual, producing from scratch and being critiqued on the quality," influences every step of her and her sister Chloé's creative process.
The clothes, shot for the brand's look book on a beach that could double as the curling shore of Lawrencetown, show their quality through nonchalant draping. The combination of mesh, metal, '70s shapes and modest hemlines, meanwhile, feel instinctively artsy yet wearable.
It's little surprise, then, that Beaufille pieces are stocked in shops from New York to Beirut, as well as on covetable couture sites like Moda Operandi and Net-A-Porter.
"People ask us all the time about being so successful, but it took seven years," Gordon says, adding that as their aspirations grow, it sometimes feels like the brand hasn't come that far.
But whether Gordon feels it or not, her beloved alma mater does: The school is bringing the sisters back home to talk success and strategies with the next crop of graduating fashion students. While there, the duo will also snag seats in the prestigious front row at the upcoming annual NSCAD fashion show, Dialect (Saturday, April 22, 7pm).
"There's no boundaries with the NSCAD fashion show," Gordon says. "There's people from multi-disciplinary backgrounds and no outside marketing influence. We felt very creative there."
She's excited to see what new pieces the graduates-to-be will have strutting the catwalk, she adds. While watching skirts swish and models stomp, she plans on talking with the students about the value of "being yourself and trusting your gut—that's what really sets you apart, your vision.
"It's a bit of a dose of reality and a chance to see what you can do with your education," Gordon says of speaking to the designer hopefuls. While NSCAD's focus on Fashion (with a capital F) helped the filles behind Beaufille craft their perfect pieces, Gordon admits the business side of things came later, from "learning from mistakes," trying and failing and trying again.
"Above all, I want to tell them to get experience. Do as much as you can with your summers, with your spare credits. That's what made it for me," Gordon says, mentioning an influential New York internship where she learned a lot.
Amongst their lessons in bias-cutting and deconstructing silhouettes, the Gordon sisters found a way to close—or at least tighten—the gap between artistry and business, to figure out how to fund their vision and bring it to swirling, low-hemmed life.
Here's hoping the next generation of NSCAD designers can do the same, one mistake at a time.