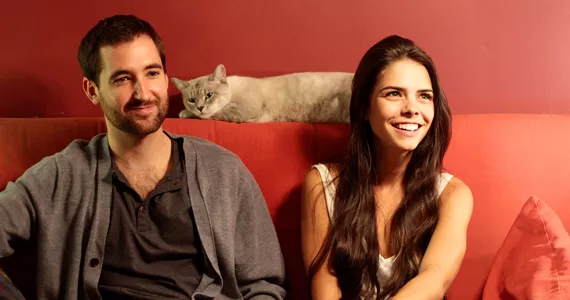 "We would wake up at like 11 and have breakfast," says Scott MacLean, one half of Magnolia, of making the duo's first EP, "and smoke some cigarettes, then go record until 10 or 11 at night." "Drinking would commence at some point in there," adds Leanne Hoffman, the other half. "It was really relaxing. I love Halifax compared to a lot of cities as far as coziness goes, but it's still so nice to separate from the city and go off somewhere where there's no noise." "There's no distraction," says MacLean, "from your regular life at all."
Last summer Magnolia spent a week recording 10 songs in Phil Sedore's home studio in Musquodoboit Harbour with a stellar backing band---Benn Ross and Clive McNutt---and Erin Costelo in the producer's chair. They put six of those songs out as Magnolia last year. They first encountered Costelo as a teacher when they were NSCC music students, where they met, started dating and eventually began writing together.
"She was doing a master class sort of thing, everyone would play a song and she would kinda pick at it, give it one little tweak and it would be a way better song," says MacLean over hot drinks downtown. "When we left there we were like 'That was inspiring. If we're ever gonna get anyone to produce for us, it should be Erin' and a couple weeks later she contacted us and said she was going to start getting into producing."
"My mind was thinking ridiculous things: 'In the future, everything is going to be fine,'" says Hoffman. "'Whatever happens now, it doesn't matter.'" "Mine was immediately, 'This is never happening,'" counters MacLean, laughing.
Magnolia has a laidback vibe, keeping drum counts, throat-clearing and other tops-and-tails studio sounds, making for a late-night jam-like environment. "It was very much about, she wants to keep the performance part of it safe," says Hoffman. "So if something went really well, and there was a glitch in the vocals or in the guitar or whatever, she would keep the whole thing---mistakes and all---to preserve the feel of things." "It gives it more of an organic feel," says MacLean.
Genre-wise, Magnolia is a bit tough to pigeonhole, for the better ("We still struggle with that," says Hoffman). There's a folk core with jazz accents, poppy and bluesy, smoky and country, with a telltale swing that's a clear result of Costelo's influence. Lyrically the songs are about relationships, sung by Hoffman in a clear bell of a voice (MacLean pops up once on the mic, he says he's still learning to be comfortable in that role). The producer asked them for a list of artists before recording started, and it included Paul Simon, Feist, Nina Simone and Bob Dylan.
"The list was huge but we genuinely wanted to sound like all of those things. At that time we just had songs we'd written that didn't really sound like what we wanted them to sound like. She gave us a specific sound, almost," says Hoffman. "When we heard the EP for the first time, mixed and mastered, I feel like that was the first time we heard ourselves.
"Like hearing a song on the radio and you wish you wrote it, but hearing yourselves and being glad that you did write it." -
---
Magnolia w/Julie Doiron & Jon McKiel
Friday, March 7 at 9pm, $12 adv/$15 door
Hell's Kitchen, 2037 Gottingen Street