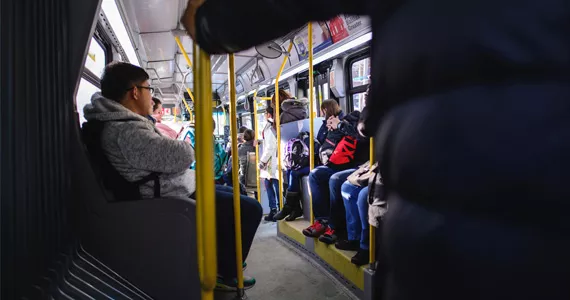 Terry Wilson relies completely on Halifax Transit to leave his Albro Lake Road home. The 62-year-old walks with a cane due to arthritis and two deteriorating discs in his back. The Department of Community Services used to give him a monthly pass, but he was one of many cut from the program in headline-making austerity measures initiated in last spring's budget.
His combined monthly income from disability and social assistance is $753. He's left with a little over $130 for food and transportation after paying rent and bills. He won't be eligible for a $58 senior's bus pass until he's 65. Wilson was given a December bus pass by an ill friend so he could run errands for him, but he has no idea how he's going to afford a $78 January pass.
He's not alone. For many low-income residents of Halifax, public transit costs are simply too high.
The current system is fundamentally unfair, says Matt Spurway. The Harbourview-Burnside-Dartmouth East candidate is making affordable transit passes a key goal in his campaign for the January 23 by-election to replace Darren Fisher's vacated council seat.
Spurway says it's not fair "when a 65-year-old wealthy person gets a discount on a bus pass if a 59-year-old with mobility issues and no car in their driveway has to pay 78 bucks."
The idea of a subsidized bus pass for low-income Halifax residents isn't new. The Transportation Standing Committee first asked city staff for a report on offering such as pass in August of 2013.
Eddie Robar, then-director of Halifax Transit who recently left to run the Edmonton Transit System, came back to the committee later that year with a proposal for a six-month pilot program and a caveat—council couldn't offer a new transit pass price without a bylaw setting the rate. So write a bylaw, council said.
Easier said than done.
The city's legal department was already undertaking a large scale review of all existing bylaws and new ones needed, says HRM spokesperson Tiffany Chase, causing a delay.
Post-amalgamation, HRM's bylaws were a veritable rat's nest in 2013. Old Dartmouth bylaws butted heads with newer Halifax city bylaws, and every set had its own definition for things like height and distance. All in all, the city had 122 bylaws.
"As you might imagine," says Chase, "it's a significant volume of work." The good news is that a draft of the transit fare bylaw should be ready to hit council chambers by mid-to-late January, says Chase.
Before leaving his post, Robar told The Coast that once the bylaw is in place the pilot project can move forward in time to hopefully be included in the 2016/2017 transit budget to be passed in April.
The pilot program would make 500 bus passes available to low-income residents for a six-month period at $39 per pass. The HRM Revenue Department would administer the pilot project and screen those interested in purchasing passes.
The report suggests that the income cut-off could twin the current properties exemption program—at $31,000 per family—or follow Statistics Canada's low-income cut-off measurement, which varies with family size.
In Spurway's eyes, the pilot project isn't perfect. It wouldn't include the 13,000 people receiving a transportation allowance through the Employment Support and Income Assistance program. Plus 500 passes is a drop in the bucket compared to the estimated 34,000 Haligonians who fall under Statistics Canada's low-income cut-off measurement.
"Whatever that incremental cost of having one additional person on a bus is insignificant compared to the money that we're investing by putting that driver and bus on the road," he says. "Anything short of a full bus is an opportunity to get people out and active. That's good for everybody."
The committee originally requested the report examine a yearly pass for low-income riders, but staff noted that those who can't spare $78 for a monthly pass aren't going to be able to pull together $468 for an annual pass.