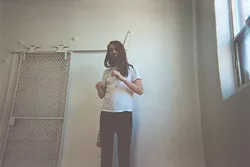 Following the international release of The Wooden Sky's latest album Let's Be Ready, the fuzz-folk five-piece are in the thick of an extensive North American tour. Frontman Gavin Gardiner took a break from rockstar living to chat with The Coast from a fire escape in Brooklyn.
Creating your own record label is a bold move–do you plan to sign other artists or keep it exclusive to your own work?
Oh we have plans! Lots of plans. We can really help pay it forward a bit. My favourite thing about music right now is making records.
Are you playing exclusively new material on this tour, or can audiences expect some older tunes?
We've been playing older songs that we haven't played in a long time, it's a been really fun. A mix, you can say.
A lot of your music deals with elements of life on the road–will you be writing new material as you travel on this tour?
I always try, I'd rather not fall into a tour black hole. You come up for air and two months have passed, so I'm trying to write. I need to take a break from listening to myself and write something. So hopefully there's more writing on tour.
You're playing both festivals and smaller venue shows on this tour, do you have a preference between the two?
In summertime it's pretty nice to play the festivals, but it's nice to do all of those things, it makes the show different every time. It makes you feel more alive.
You've played Halifax in the past–what was that experience like?
It was awesome, the Pop Explosion was great. The funniest thing about Pop Explosion, we did a soundcheck at Saint Matthew's church, it was beautiful. I got my running clothes on to go for a run and get our badges and I got back and someone was there wanting to talk to me about a song I'd written. I was in my sweaty running clothes and someone wanted to talk to me about important moments in my life.
Do you have any advice for new bands just embarking on their first tours?
Drive safely! There are a lot of things you learn–respect and love the people that you're with. If you don't do that, the whole things feels kind of pointless. Life is what happens to you when you're making other plans, so the things in between the shows are important. If you enjoy your time, it makes the whole thing worthwhile. It's been five years since we've started touring, at least I've learned something.
You can catch The Wooden Sky tonight at The Carleton.