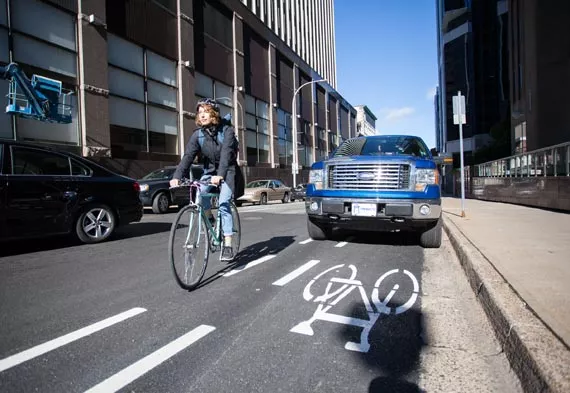 As active-transportation plans go, the new bicycle lane on Hollis Street in Halifax wasn't exactly a pedal-to-the-metal project.
Installation was delayed for years before it finally took place this summer. And the project wasn't the last upgrade to be done on the busy one-way street. At some point, City Hall must look down the road and consider when Hollis Street might get slotted in for repaving. 
This begs the question: will the bike lane temporarily cease to exist during future paving work and then be resurrected once that job is done? City staff won't go there—yet.
In the absence of approved plans for such a potential repaving project, municipal spokesperson Tiffany Chase said recently, "we can't speculate about how the bike lane may be impacted." She adds that "yes, typically, when resurfacing roads containing bicycle lanes, we have to close portions of the lane temporarily until the work is completed."
The Hollis Street bicycle lane is part of a downtown street improvement plan that was implemented in 2011. Construction of the lane started in August and finished last month. According to internal emails between city staff, doubt was raised several months ago as to the bike lane getting the green light this year.
"I don't want to move forward with the bike lane project this year if we are paving Hollis in 2016," manager of project planning and design services David Hubley writes in an email to colleagues.
"If however we plan to hold off on the paving of Hollis for 2 or more years [then] I would support the bike [lane] in 2015. So we need to make a decision on the timing of the paving," says Hubley's email, one of many obtained by The Coast through a freedom-of-information application.
Another city staff email, written in late January by Dave McCusker, Halifax's strategic transportation planning manager, speaks to expectations surrounding the north-south bike lane on Hollis Street.
"Fairly strong assertions were provided to"—city hall's active transportation advisory committee—"and the media...that the project would be tendered in 2014 for construction in 2015. Nothing was ever promised to regional council," it says. 
The multi-component bicycle lane project was subject to public information sessions and underwent design changes. Chase said the project cost $221,000 plus HST, along with an additional $5,000 for material testing and inspections.
Other roadwork was done, too, during construction.
"Intersections were resurfaced and some curbs and curb cuts [were] upgraded along that section of Hollis when the bike lane was installed," Chase says in an email. The total cost was not simply for painting lane lines on the street and putting up new signs, she stresses.
With respect to resurfacing the road in the future, Chase says "it's not anticipated that repaving of Hollis Street will be proposed for the 2016-17 season." She writes, "significant capital upgrades to Hollis Street will be contemplated in future years' budgets."
A video posted in September on the Halifax Cycling Coalition's Facebook page shows a bike user's view from a ride along the Hollis Street lane. The daytime video also shows vehicles stopped in the bike lane, which the city is trying to curb through recently installed No Parking signs.
In a statement issued on October 9, two days after a woman riding her bike on Purcells Cove Road died following a collision with a truck, the coalition called for separated cycling lanes. It says protective posts should be installed on downtown bike lanes, along Hollis and Lower Water streets.
"This type of post can be installed for as little as $15,000 and has been shown to reduce the risk of collision and dramatically increase cycling volumes," the statement reads.
Regarding the future repaving of Hollis Street and potential impact on use of its bike lane, coalition board member Eric Jonsson acknowledged it can be a temporary headache to cyclists and drivers, but says "it's not really an issue," compared to installing protective posts