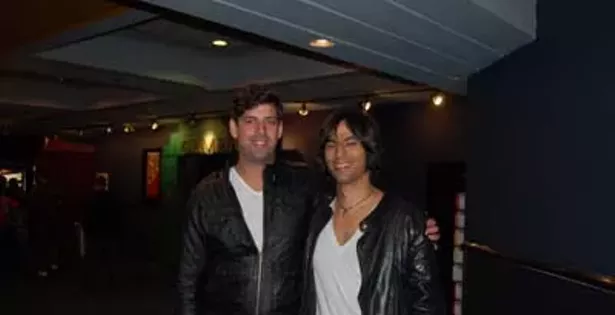 I thought that Atom Egoyan-Kevin Smith would be the weirdest double-feature I'd see at the festival, but coming in at a close second was Man on Wire and Wendy and Lucy, two movies I adored for opposite reasons: Wire is shot like a caper film and although you know Petit survives walking a tightrope between the two Trade Center towers, the tension is incredible, and more emotional than I ever expected. On the other hand, Kelly Reichardt lets her story about a young woman and her missing dog unravel slowly without any unnecesssary drama. It's beautifully lean; a lesson that the directors (other than Sook-Yin Lee) from Toronto Stories should observe. That movie was stuffed beyond capacity with big drama. Dinner that night: Overpriced veggie tray from Pete's. I'm embarrassed at how much I paid for that.
First off, last night was Frame X Frame animated doc shorts. As I told AFF programming coordinator Mark Flindall later (and I wasn't playing all sucky-uppy), it was my favourite screening so far. He told me that the idea for the program came from a beer-filled night at the Berlin film festival, where he met a woman from Sweden who runs an animated documentary festival there.
The screening started off with Slaves from two Swedish filmmakers, Hanna Heiborn and David Aronowitsch, who undertook the challenge of animating interviews of two Sudanese children who had escaped slavery. The juxtaposition of beautiful watercolour images and the children's own words about beatings, starvation and murder is really impactful, as it was in Marie-Josee Saint-Pierre's Passages, where she used white line drawings on a black background, and lots of mythological imagery, to describe the horrifying scene when she gave birth to her daughter Fiona. All of the films were terrific, but it doesn't get any better than the world premiere (even Flindall hadn't seen it yet) of Don Hertzfeldt's i am so proud of you, a sequel to last year's everything will be ok. Hertzfeldt tackles huge issues like mortality, mental illness and contemporary malaise but he does it with stick people mixed with video. It's demented and dark, funny and sad all at the same time.
Here is his Oscar-nominated short Rejected:
After Frame X Frame, I went to a theatre packed with friends to see Atlantic Shorts IX. I totally agree with Carsten's assessment. And though I am totally biased, and will admit it upfront, I really enjoyed Eric Duncan's two shorts, The Bad Roommate and Gracious (written by some Thorne chick), especially in a festival where the laughs have been few and far between. So who's going to give Matt Charlton and Dan Ledwell their own series already? They're like Seinfeld and George, just a whole lot cuter and skeezier. And who knew Rich Aucoin looked like that when he runs? Also, Andrew Watts' Dartmouth Werewolf in Dover, starring Matt Mays as the giant furball, is so intentionally B-movie, it felt like we kicked back to 1965 for awhile there.
Here's a little somethin' for the ladies: John Mullane, still rocking his 1950s hair from the In-Flight Safety 10x10 video shoot, along with El Torpedo Andy Patil, who thankfully survived Matt Mays chomping on him. Apparently they call each other in the morning to discuss wardrobe choices.
Dinner: Just Spring Roll tofu curry. complimentary beer.