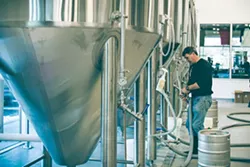 Nine Locks Brewing, owned by Danny and Shaun O'Hearn, officially graced the craft brewery scene with its presence last week. In the same brand new building as the Mic Mac Bar & Grill, the brewery's name pays homage to the historic Shubenacadie Canal that meanders just a stone's throw away.
The O'Hearns, distant cousins and lake-dwelling neighbours, tossed around the idea of starting a craft brewery while having beers around a campfire almost two years ago. With the motto "we can so you can," Nine Locks' single-serving brews are canned, not bottled, so you can easily take them on any adventure that might benefit from a post-excursion cold one.
In honour of that, we've paired a few outdoors experiences unique to Dartmouth with the Nine Locks beers that suit them best.
ESB and John's Lunch-nic
The ESB, a classic English pub-style ale, is subtly spicy and resplendent with the flavours of toast, honey, coffee and toffee, and, according to Danny O'Hearn, is the perfect match for fish and chips. Luckily, Dartmouth is home to John's Lunch, some of the best fish and chips around. So grab a few cans of ESB, swing by John's for some food, and head on down to the water to enjoy both. Just, uh, maybe be a bit discreet with the public beer consumption, right?
IPA-thon
Shubie Park is home to one of the city's most well-loved triathlon races, held every fall. But this neck of the woods is perfectly suited to a multi-sport adventure of your own making, no matter what the season. You could join the fleets of cyclists that speed along the Waverley Road every weekend, or practice your doggie paddle in Lake Charles. Hike around the trail system in Shubie Park, or, in the winter, bring your skates down to the lake.
Just be sure that the third leg of your Beeronman involves, you, a "big, bold, bitter" IPA and a sincere attempt to polish off a large loaded potato skins at the Mic Mac Bar & Grill.
Porter and s'mores
Danny O'Hearn describes the Nine Locks Porter as the perfect dessert beer. Specifically, its chocolate and toffee notes are perfect paired with, yeah, even more chocolate. Pick up some porter on your way to your favourite beach, get a bonfire roaring and have S'mores with a beer chaser, a pairing which will be heretofore referred to as S'meers. Get on it.
SUPing with a Dirty Blonde
The Shubie Canal—where the name Nine Locks actually comes from— is one of the best places around to zen out on your stand-up paddleboard. Once we get past winter, you can plan to extend your post-paddle chill with Nine Locks' light, refreshing Dirty Blonde.
Or, if you can't wait, they make SUP coolers for that. But you didn't hear about those kind of irresponsible shenanigans here.
---
Nine Locks Brewing
219 Waverley Road
Mon-Fri 12-9pm; Sat 11am-9pm; Sun 12-5pm