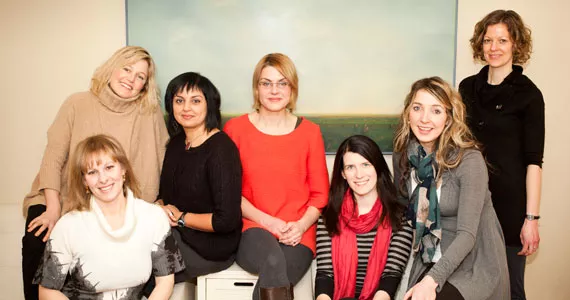 Imagine being a patient at a health centre where your family physician could sit down with your naturopath to talk about whether those nasty bellyaches might be a gluten intolerance, or where your massage therapist and your psychotherapist could team up to conquer your stress headaches.
Make too much sense to be true? Nope. Last September, seven Halifax health care providers joined forces to establish a clinic offering a unique blend of allopathic and complementary medicine under one roof.
The Living Well Integrative Health Centre may look like an unassuming house on Windsor Street, but it's a dream come true for the practitioners who work there. The idea of owning a truly integrative clinic that could nurture the physical as well as mental and emotional wellness of patients has lived in the heart and mind of co-owner doctor Maria Patriquin for her entire life. Patriquin partnered with doctor Shauna Archibald to bring the centre to life.
They're joined by a team of health professionals including Theresa Jahn and Rochelle Wilcox, both naturopathic doctors, Harpreet Aulakh, a clinical psychologist, clinical social worker Jennifer van Kessel and massage therapist Julie d'Entremont. Collectively, the group is breaking ground in Nova Scotia when it comes to offering coordinated, holistic health care.
The peaceful, welcoming feel of the clinic ---not clinical in the least---truly embodies the practitioners' vision of providing diversified care that encompasses the mind, body and spirit. Sun streams through the windows, hardwood floors creak underfoot and original art decorates nearly every vertical surface. The house has a relaxed and happy vibe, clearly fueled by the fact that each of the professionals who have set up shop here are thrilled to be working in such a positive and collaborative environment.
Seated at a table in the kitchen of the centre, Patriquin smiles widely as she describes how naturally her diverse group of co-workers came together. "We all share the same core values. We provide high quality, evidence-based, patient-centred care."
She and Archibald share the belief that the physician is not the be-all and end-all, and that it is important for a patient to have awareness of and access to a full complement of excellent health care providers. In a world with increasing shortages of primary health care for increasingly unhealthy populations, this philosophy makes a lot of sense.
The practitioners at the clinic operate independently, but some of their patients are shared. With the patient's permission, the clinicians can work together to help achieve diagnosis, treatment and ongoing wellness. The result is a coordinated approach to health care with increased communication between providers and, ultimately, better health outcomes for the patient. There is little doubt that this model of health care provision is the way of the future, and that Living Well Integrative Health Centre is a solid step in that direction. For more information, visit livingwellihc.ca.