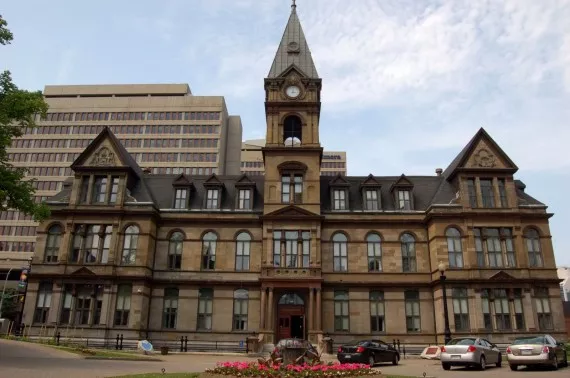 The municipality maintains over 220 buildings, but HRM employees who make more than minimum wage only clean seven of them. Mark Cunningham, president of the Civic Workers Union (CUPE 108) says that's not right.
"It's terrible work. It's unjust that HRM as an employer would employ, even through third-party contractors, so many minimum-wage workers to do work."
Cunningham went before city council during budget talks on Wednesday afternoon, petitioning for Halifax to adopt a living wage ordinance. Several councillors, including Peninsula North representative Lindell Smith, were in favour of the idea.
"I think it's important we have the [conversation]," said Smith. "Implementing a living wage ordinance could increase our service level and not impact our budget."
There's been a "growing wave" of companies and government bodies looking at offering a living wage to employees in Canada. The Ontario Living Wage Network says 28 communities and more than 100 employers are on board with the idea in that province. Toronto's city hall in particular has championed a living wage standard across the city as part of its poverty reduction strategy. Toronto is says the city is prohibited from doing business with contractors and suppliers who aren't paying a living wage to workers, though @BetterLivesTO points out that promise hasn't been fulfilled.
"This is something other municipalities are doing," said Halifax South Downtown councillor Waye Mason during Wednesday's meeting.
The devil would be in the details, though. A living wage ordinance in Vancouver excluded police, library employees and any companies with a contract more than $250,000 who provided regular, ongoing service on city sites. Out of the 120 eligible companies meeting those criteria, 116 were already paying employees a living wage.
The Halifax Examiner's Tim Bousquet surveyed candidates during last fall's municipal election about their willingness to support such an ordinance after a new parking enforcement contract was awarded to G4S instead of the higher-paying Commissionaires. Despite many of those who supported the idea being elected, and encouraging statement like those from Smith and Mason, no one on council has so far asked for a staff report looking into a living wage ordinance in HRM.
Cunningham says that should happen soon, and when it comes forward it should cover any employees, seasonal workers or third-party contractors working for the municipality. Though, he admits, that would benefit his union in making the ground more equal when it came to bidding on work.
"From a union perspective, we want to be able to compete," says Cunningham. "That's always going to be a piece of that, but frankly that's not a strategy of ours."

The strategy, he counters, is about getting higher pay for the hundreds of HRM's employees working on minimum wage.
"If the competition is 'who can be the most-living-wage employer,' then, hey, that's a great competition."
The Canadian Centre for Policy Alternatives recently calculated the cost of a living wage in HRM at $19.17 per hour to support a family of four when both parents are working.
It was announced on Wednesday that minimum wage in Nova Scotia will increase on April 1 by 15 cents, to $10.85 an hour.