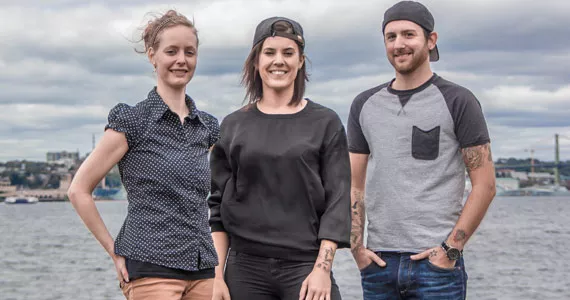 Get ready to veg out this weekend: Saturday, September 20 sees Halifax's very first VegFest.
Seth Graham and Jessie Doyle from Fruition and Diandra Phipps from enVie spent the past year putting together the festival, which features an exhibition of the best of vegan culture in Nova Scotia. "We've always supported each others' businesses, and it was a natural partnership," says Graham. "We knew it would be a fun project to team up on, and further support the Veg movement in Halifax. It's amazing how much the community has supported this concept and embraced a food culture centred around health and wellness."
The trio cites a growth in vegan events across North America—each year around 40,000 people attend Toronto's Veg Food Fest, which celebrated 30 years this year—as an inspiration for Halifax's inaugural festival.
"There has definitely been a surge of interest in veganism, and we see this at enVie and Fruition first-hand," says Phipps. "It's amazing to see more and more people curious about the idea of living a life focused around health, and achieving that by increasing plant-based foods into their diets, living mindfully and treating others with compassion and respect. And that's really what the core of Halifax VegFest is all about."
"As much as this will be a food festival, it's also meant to highlight other businesses that have sustainable and responsible business practices," Doyle says. "With speeches about being a kind mama, to feeding our beloved pets super plant-based foods, there really is something for everyone to learn. We also believe that creating an environment where people can meaningful conversations with business owners that care about their customers' health and well-being is where big change happens."
It was important to all three organizers that VegFest is as appealing and welcoming as possible to people no matter their dietary preferences. "We are breaking down the stigma associated with vegan food—tasteless, boring, tofu and sprouts? Hell no!" says Phipps. "The festival will be a welcoming and positive environment for vegans, vegetarians, omnivores and even the bacon-lovers!
"We're hoping the event will plant a seed with non-vegans and vegetarians, as we are learning every day that our food choices not only affect our environment and animal welfare, but our own health and well-being."
Showcasing businesses that also reflect those values, and connecting them to the ever-growing veg-friendly customer base, is key for the event. The range of businesses showcasing at VegFest is a wide one. Grocers like Pete's, Organic Earth Market and Vegetorium Country Market and restaurants like enVie, the Heartwood and Wild Leek, will be joined by organizations like Animal Justice Canada, Hope Blooms and the Sea Shepherd Conservation Society.
"We are so excited about our first year's exhibitors, we are truly blessed to have such a stellar line-up to offer," says Doyle. "We have everything from food trucks and BBQs to body-care products, clothing, baked goods and desserts, pro-animal organizations, kitchen accessories and more."
Graham stresses that the mix of businesses and consumers is an important part of the conversation around food culture. "Without our communities, our businesses wouldn't exist," he says, "so let's start making those conversations happen with like-minded people, and celebrate the businesses that support our goals as a community."
---
VegFest
Olympic Community Centre 2304 Hunter Street
Saturday, September 20, 10am-6pm
$5, tickets at Fruition, enVie & Wild Leek