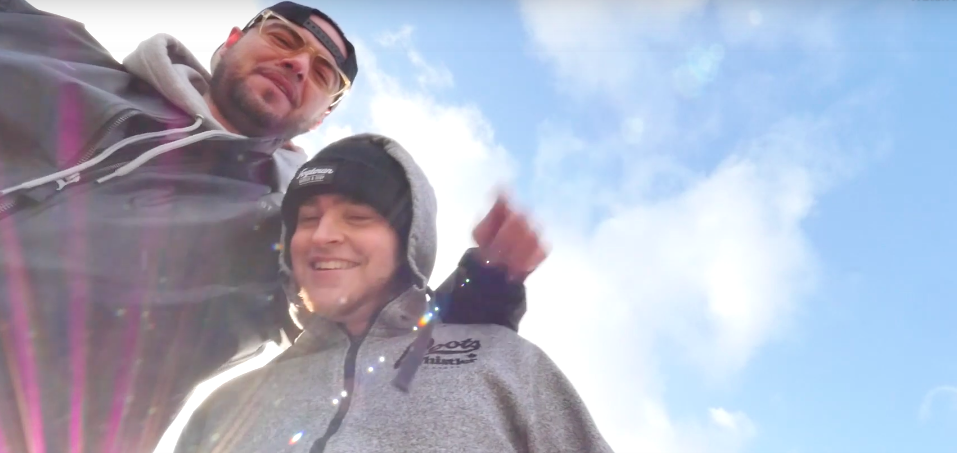 A blue sky, dotted with cumulus clouds, spins lazily by overhead, as if you're out for a summer drive with your best friends—or you suddenly found your arms were replaced by wings and you needed to test 'em out. Ghettosocks (real name Darren Pyper), the venerable Halifax MC, comes into view, towering over the frame. You're sitting at his feet, ready to receive his imminent lesson in the form.
The drums hit, backed by the skeleton of a reworked jazz sample, and the rhythm slides across your ears, sweet as Nutella.
"I fly, we fly they fly/I looked up and saw my reflection in the sky," Ghettosocks spits.
This is "Reflections," the new track by producer-beatmaker Darrell Kelloway (who goes by DK) and 'socks himself.
"I started doing shows where Ghettosocks was performing and I started sending him some stuff," DK begins, explaining how the collaboration came to fruition. "I always loved his wordplay and had been making beats for awhile, and decided to reach out when I felt that my production was good enough."
"I'm pretty particular when it comes to beats," Ghettosocks continues. "When you're on a wavelength, that's when things come together. DK's style just spoke to me."
DK—who is immediately set apart from the producer pack by his love of sampling drums from vintage vinyl—has a debut EP slated to drop later this month. When he creates a track, he's trying to build something "real soulful, the way something sounded in '94, '95—with live percussion."
When it came to writing "Reflections," "We sat with it and wrote to it, a collaboration on the spot at DJ Uncle Fester's studios," Ghettosocks says.
DK cites golden-age rapper-producer duos like No I.D. and Common or Buckwild and O.C. as influences, while Ghettosocks quickly adds "we're both fans of Gangstarr—that east coast, New York aesthetic with a matching vocal element." Which, tbh, explains why "Reflections" sounds somewhere between a lost Tribe Called Quest joint and the B-side to Blackstar's "Respiration."
See how it slaps for yourself: