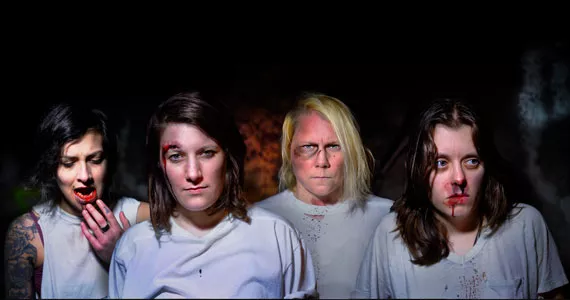 Like a Motorcycle w/Keith Doom and the Wrecking Crew, Endless Nameless Saturday, November 26 at 10pm Gus' Pub, 2605 Agricola Street $9/$13
Halifax punk-rock band, Like A Motorcycle, is ending its first international tour in support of its debut album at Gus' Pub & Grill on Saturday.
This September, Like a Motorcycle's Jillian Comeau, Kim Carson, Michelle Skelding and Katie Lamond, toured throughout Germany and Canada, and Saturday marks a triumphant homecoming.
"We've been out for so long, so it'll be the best show we can give to our hometown because we have worked everything out over all this amount of time," says Carson, sitting next to Lamond and Skelding in their living room.
"We've let all the other cities hear us suck first," says Lamond.
The band has come a long way since its EP #Motorpool was released in 2013. Teaming up with GroundSwell Music, the Halifax-based label and management company, this year the band was able to release its debut LP, High Hopes.
Punk rock label Rookie Records in Europe also teamed up with GroundSwell, giving the band the opportunity to play in Germany. Skelding says the shows were sold out. "We went over there and we met our market," she adds.
"Punk rock is really big in Germany, so over there we're this Canadian punk band and here we are the freakin' idiots from up the block. So maybe we're more novel over there," says Lamond. "There are aren't many punk bands in Halifax with maybe just six active bands...and I think what dominates Halifax's music scene are indie-rock bands.
"We do better overseas just because we have more of an audience to our type of music."
The band will be going on its second round of tours around Germany in January. "Being there for months would be great. To just be focusing on that," says Lamond.
"We never had that weird illusion of commercial success. Even here, we don't think we're going to be a Top 40 band and that's not our goal," says Carson.
"Our goal," says Lamond, "is to travel for free and pay rent."