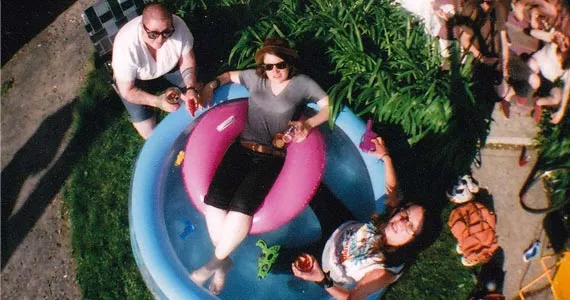 Upon arriving at the Motorhome (the two-flat house that Like A Motorcycle share), Jillian Comeau is yelling, Kim Carson is ignoring her and texting and Michelle Skelding is in her slippers. They kindly turn off the volume on the Blur videos streaming in the background in Carson and Skelding's living room. As the girls crack some beers, they say we have to be quick, because Comeau is making dinner upstairs. There's a familial edge to their interactions, and one almost feels like a voyeur or an interloper getting in the middle of it all. I feel like I've interrupted family dinner, or maybe it's the uncanny feeling of walking into the middle of a sitcom. An evening at home with Like A Motorcycle is like a grown- up and actually hilarious episode of like Full House---if DJ, Stephanie, and Michelle were a badass rock band.
Once we settle in around the living room, they discuss how they became a band, which prompts some intense debate and a little name calling. Well, guitarist Comeau and bass player Carson debate, while Skelding, the band's drummer, sits quietly laughing at them. Comeau and Carson had been friends for years when they began jamming together, with Comeau on bass and Carson playing guitar. When Comeau returned from a brief stint in Saskatchewan ("She had learned her lesson" Carson tells me of the move. "She went to Saskatoon, and she was really sad without me so she had to come back"), the two switched instruments and liked what they heard. When it came time to find a drummer, there was no question that it would be anyone other than Skelding, who had caught their eyes over the years, drumming and singing in No Flyers Please, The Numbered Head and The Thetans.
As Comeau tells it, "What happened was, Kim was in love with Michelle. She would say to me drunk, 'I'm gonna get her. She's gonna be our drummer. And then she'd go to Michelle and say things like 'I'm gonna make you famous, baby!' Kim just decided she was the one."
"That's not how the story goes at all!" Carson complains. "She does this every time... but we did totally court her."
Whatever really happened, the three have spent the better part of the last three years building a sound and a reputation that has been getting attention from audiences and industry alike. Raw, swaggering energy surges through frenetic drums, squalling guitars and killer harmonies delivered with wails, sneers and knowing smirks. It's an authentic brand of sweaty grunge, something born of "real life," Carson says. "There's no image there. I think people see that and that's why we can all relate, and that's why people can relate to us." The group is grateful for its fans, and for the growing group of incredibly talented, like-minded musicians that they play with and view as their counterparts. "The Scoop Outs are probably our favourite local band," Comeau says. "And Billie Dre and the Poor Boys, too. We're not the same, but we have a similar feel."
"I think it's good to have those bands---like sister bands or brother bands or husband bands," says Skelding. "I'd play a show with those two bands in a second. Every time." Before they play that theoretical dream three-piece bill, they have an album to release.
Motorpool was recorded last summer by Troy Arsenault and Mike MacDougall, and the process started in motion a relationship between Arsenault and the band that neither can speak highly enough of. After seeing them play some of their very first shows, Arsenault knew that he couldn't let the opportunity to work with them pass him by and approached an initially skeptical Comeau at 3:30am at Cheers.
"I think my exact words were, 'We need to work together,'" Arsenault says. "I'm just lucky they followed up." Skelding says meeting Arsenault was a definite band highlight, and Arsenault says the first time he saw Like A Motorcycle play, he was excited to get to work. "There was something that instantly caught my attention, something that's hard to find," he says. "Chemistry and synchronicity within a group will determine the success of a band. You can't learn that--- you either have it or you don't. They have it."
Arsenault and MacDougall were keen to tap into that X factor when they got into the studio, so all five embarked on a bit of an experiment. This was the band's first time recording with someone else, and Arsenault and MacDougall's first time recording an entire album, start to finish, in their small studio. "They put us in a closet to record the vocals," says Carson, laughing, as the band discusses Arsenault and MacDougall's unique technique for capturing the band's signature raw live style.
"They'd sit in the other room and just try to piss us off until we got angry," says Comeau. "There are so many tracks of me smashing things and yelling, and then they'd be like, 'Yeah, that's it! We got it!'"
Arsenault kept working with the band, taking them to Toronto last winter for a successful handful of shows at Indie Week. Just like MacDougall and himself, Like A Motorcycle "all bring something special to the table and work their asses off to get what they want."
What they want is to keep the momentum going, with everything from a packed performance schedule to their latest scheme, a monthly panel-show inspired rock and roll game show. The fifth Rock & Roll Round-Up is extra special this time around, and not just because it will feature indie dance-pop dreamboat Rich Aucoin and Queer Acts darling/comedy genius Megan McDowell.
The Monday, September 23 show at The Company House will serve as the release party for the digital EP Motorpool---so named after their favourite Sunday afternoon activity, scrolling back through the #motorpool hashtag on Instagram to see that the scores of photos of young army men and their Jeeps are interrupted by dozens of pictures of the band and their friends hanging out in a kiddie pool on their front lawn. The show kicks off a busy fall for the trio, one that will see them playing huge shows with bands they love, and heading out onto the road. They open for The Brains September 21 at Michael's and for The Balconies at the Seahorse on October 11. Then they'll head to Toronto for Indie Week, before returning home to open for Japandroids at the Halifax Pop Explosion on October 26. After that, they head to Nova Scotia Music Week in Sydney in November, to play a killer Halifax-heavy showcase. Throw in a few more digital releases, the release of Motorpool on vinyl, and a Christmas single (if Skelding gets her way), and it becomes clear why it's so hard to pin these three down, and why the only time to get them all in one place for an interview is 11pm on a weeknight.
Before Comeau heads upstairs for dinner and Blur gets turned back up, I ask the band how they manage to live, work and party together without killing each other or breaking up. They joke about the evolution and overlap of their inevitable fights. Band fights at a jam turn into fights about toilet paper, which turn into fights about old wounds.
"The line is a huge blur," Carson says. Blurred as it may be, it's not just their musical chemistry that keeps them together.
"I think it comes down to family," Comeau says. "We can spend as much time as we want with other people, but at the end of the day, we are the only three people that are always genuinely here for each other. That's how it works. You fucking hate your family sometimes, but at the same time they're always there, they're all you got. We're what we've got."
---
Like A Motorcycle Rock & Roll Round-up w/Rich Aucoin, Megan McDowell
Monday, September 23, 9pm, $5
The Company House, 2202 Gottingen Street