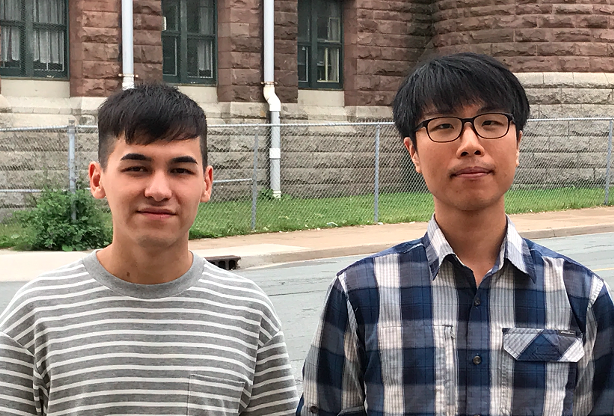 If HRM wants to get on the right track for transit, Ben MacLeod and Steven Lee say it needs to think light.
The two urban planning advocates are the brains behind the new
Halifax Light Rail Alliance
, which asks Halifax to rethink its transit-oriented development and build a "holistic
mode
of sustainable urban growth" focused on a light-rail transit system. While he works as an urban planner in Hong Kong, MacLeod is originally from Halifax and bore witness over his adolescence to some of the city's most infamous planning nightmares.
"I grew up the same time as the controversy over the widening of Chebucto Road, and putting the needs of suburban drivers over walkability of the urban core," he says. But bad planning can make surprisingly fertile ground for developing new generations of civic-minded activists. "When I became interested in urban planning it came out of a frustration with things in Halifax."
The group's proposal is for a system of light rail stations stretching from Cobequid through Bedford and around the Halifax peninsula, with a single interchange at Dutch Village Road offering service out to Bayers Lake and Clayton Park.
Light rail tends to offer a mix of the advantages found in other transit systems. It uses individual rail cars or short
trains,
but can operate on dedicated right-of-ways and city streets. Unlike commuter rail, light rail runs in both directions and all day. It doesn't need to stop and start at train terminals. The cars also offer higher capacity than buses and can be run from overhead electricity.
Already widely used all over the world, light rail has been proposed again and again over the years in Halifax, to little traction. Former mayor Peter Kelly campaigned on the idea but made little progress after being elected in 2000. More recently, the Building Owners & Managers Association Nova Scotia
petitioned for a system
using existing rail beds across the peninsula and downtown Dartmouth.
So there's no lack of inspiration, but grand ideas don't cover costs. The municipality's own assessment of a commuter train system estimated it would cost between $36 to $62 million in
capital
, with an operating budget of $8 million. While Via Rail's
unsolicited pitch for commuter rail
is reportedly well under that price tag, $62 million is still a drop in the bucket compared to the billions a light rail system would probably need.
MacLeod and Lee understand that, but they say smart planning now can make light rail a much cheaper reality in years to come. Commuter train lines can be expanded, and massive infrastructure projects like the Cogswell Interchange redevelopment can be adjusted in anticipation of a future where both trains and buses roam
through
the downtown's streets.
"The reality is this won't happen tomorrow, and it might not ever happen in the next 20 years," says MacLeod. "But we just want to make the point that to grow into a sustainable city, you have to plan for this kind of thing."
Anyone who's looking to help make the Light Rail Alliance's dream a reality can visit
lightrailalliance.com
for more details.