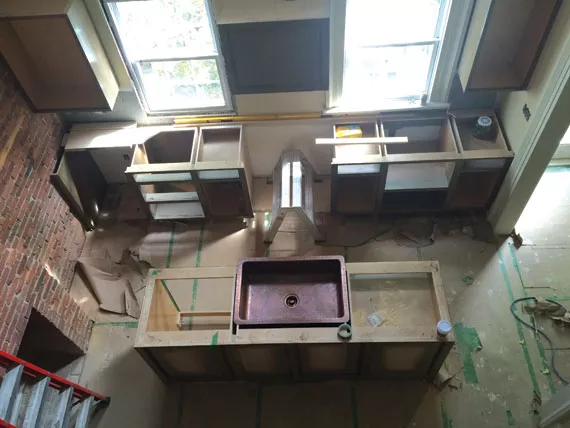 If practice makes perfect, it's no wonder Monique and Kent Roberts found their little piece of heaven on Bauer Street. They've been mastering the art of packing up and starting over for their entire marriage, getting truckloads of practice via six (or was it seven?) moves across the country. This time was different though: The distance was much shorter—they moved themselves and their two children from west end to north end Halifax—and the house much smaller.
"We just said, 'It's time.' It was time to do a downsize," says Monique. "We'd just moved so much—and we'd always moved a lot of clutter."
After about a year of carefully looking, she and Kent took one step into their now home—a nearly 200-year-old Victorian row house—and were sold. Admittedly, it wasn't exactly what they were looking for, with its minimal storage, no driveway and need of TLC, but its charming aesthetic outweighed their doubts and in late summer 2014 it was theirs.
"We both like old houses, and this one was a mix of old and new," says Kent of the house, which had already undergone a pretty serious renovation in 1996. "We'd always moved into new houses, or houses that didn't need anything. This one obviously needed something. It needed work and we wanted to have someone who knows how to look at a house and see things we wouldn't have seen."
What they did see was serious potential, in the rich textures—exposed brick, original plank flooring—the bright, big windows and the home's rich history. A bonus basement apartment that would be perfect for their university-aged son didn't hurt either. But the potential came with the sacrifice of square footage and storage. The two-bedroom house would require the family to maximize space and minimize stuff. "I was on a first name basis with both the dump and Value Village," says Kent, laughing.
On the advice of their realtor, the Roberts hired the creative brains of Colin Blanchard and Kenneth McRobbie (the designers behind 31 Westgate and the upcoming Workshop & Co) who helped them give the space an update that both spruced it up, and gave a nod to the building's past life. "They always said that if you took a house, turned it upside down and shook everything out of it, its bones should marry the age of the house," says Monique of the designers' philosophy. "So, a 180-year-old house, a lot of it should look like it's original."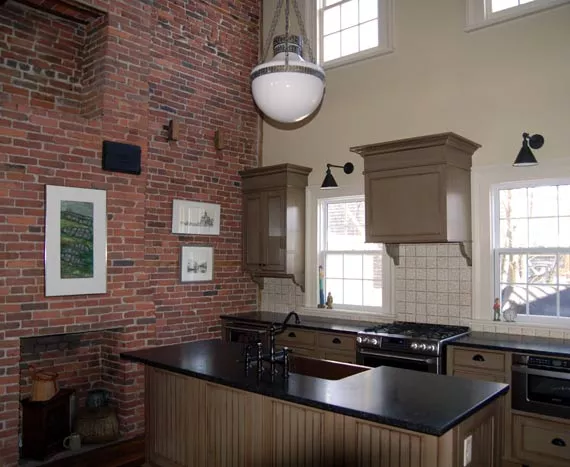 The centrepiece of the renovation was the kitchen, which was originally in a small, claustrophobic corner of the first floor, disconnected from the rest of the space. On Blanchard and McRobbie's suggestion, it was swung into a neighbouring room—a backyard-facing, open two-storey space—and completely rebuilt to include a massive island and copper sink, custom cabinetry, hand-crafted millwork and stunning backsplash tiling.
Other notable fixes included putting in a brand new bathroom in a previously unused office on the second floor, removing a shelving unit from the landing that overlooks the kitchen to make room for a workspace and giving every inch of the house a fresh paint job. Pops of subtle colour, lighting fixtures that double as art, rustic wood and natural light from all angles give the home a sunny and stylish warmth. It's elegant, but homey, too.
"Here we feel like we're living in twice the space as our old house, and really it's like half the square footage," says Monique. "But we're living in more.
"All the things you worry about—how's our daughter going to do? How will we do in a smaller bedroom? Where are going to put the cars? Where will we put all of our stuff? It all works itself out," says Monique after nine months in the north end home. "That wish list didn't matter at all, it was astounding. It was immediate. As soon as we walked in we were like—this is it. And we just all knew this was the spot for us."