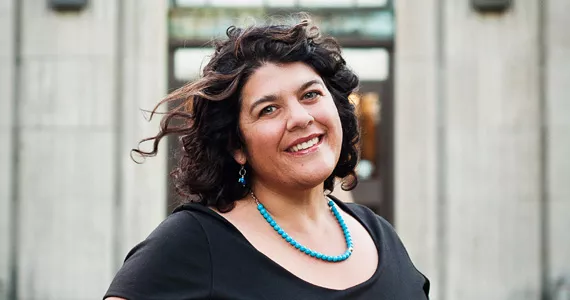 "I struggled through writing Homing trying to figure out how to write a book," admits author Stephanie Domet, humbly referring to her award-winning 2007 novel. A journalist by trade---you may know her as host of CBC Radio One's Mainstreet--- two books under her belt and a brand new novel, Fallsy Downsies, released by Invisible Publishing this month, it's safe to say that Domet is constantly evolving as a storyteller.
"I wrote that bastard by hand," she says of Fallsy Downsies, referring to the hard drive crash whose divine intervention yielded unexpected positive results. "It drove my writers' group crazy. I would show up to our retreats with this cloth bag full of paper. Just the one copy, because...I knew if stuff goes away you can re-write it. On the other side, now that it's done I'm like---what was I, crazy?" But, like a true artist should, Domet finds nuggets of wisdom in life's little tragedies. "It was amazing," she says of the experience. "Because I'm an intuitive writer...I can type out everything I think. When you're writing by hand it's much slower." The novel (pun intended) method also kept her on track. "For me, [writing] kind of feels like I'm in a boat," she explains. "I'm on this river and all my thoughts and sentences are coming toward me, and when I'm writing by hand I can only get a few in the boat with me.... It makes me have to focus and only pick the really good ones."
So while her writing habits may have reverted to those of the iconic, primitively passionate, romantic writer who totes around her manuscript---in this case, in a cloth bag---Domet has felt her writing style mature substantially since her last book. "I felt, coming out of the Homing experience, I had put a tiny toe on the path toward learning how to write a novel," she says. "It wasn't just making nice sentences and piling them up until you had 60,000 words."
But like many authors, Domet has always culled elements of her fiction from her own life. And the experience of writing her last novel is at the forefront when she speaks about her latest. What motivated her to write Homing was very much rooted in the homesickness she felt for her newfound home of Halifax, where she was once The Coast's managing editor, after taking a contract job with CBC in perpetual-winter Winnipeg. "I'm essentially a homebody, although I always end up arranging my life so that I'm never here," she jokes. "When I moved [to Halifax] I fell in love with this place so instantly and I really wanted to read about the city I was living in, in its current form. When I started writing Homing it was very clear to me that I had an opportunity to write what I wanted to read: a contemporary book set in the Halifax that I knew and loved."
Domet also looked all the way back to her childhood when beginning her career as a novelist, reminiscing on the marked absence of familiar landscapes. "When I was a little kid I never read anything about where I lived," she explains. "I thought stories could only happen in English gardens and New York City tenements. I thought that's where stories were set. By the time I was 12, I thought the novel was dead."
After finding success with Homing, which won the Margaret and John Savage First Book Award, Domet returns this month with something new, albeit visited thematically by ghosts of novels past. Fallsy Downsies is the tale of Lansing Meadows, an aging (and ailing) Canadian folk icon who takes off on one last cross-Canada tour; acquires a makeshift posse of three when he meets aspiring musician Evan Cornfield on the South Shore and Dacey Brown, a photojournalist who escapes her going-nowhere life in Grand Falls and discovers a thing or two about life along the way. It is a road novel---a humourous commentary on the social, physical and musical Canadian landscape. It is a love letter to music and an insightful exploration of art as performance, but it is ultimately about the bravery required for personal and artistic perseverance in an unappreciative world.
When asked what inspired her to write Fallsy Downsies, Domet can pinpoint specific moments in time. The first occurred while with her husband, musician Kev Corbett, and music producer Steven Bowers in New Glasgow. "It was the middle of the night and we were probably pretty drunk," she prefaces. "There was this vault in the basement that we hung out in. Dave Gunning was with us and he was telling us about working for Stompin' Tom and how the job interview went: Dave gets a phone call, it's Tom Connors. Conditions of employment are, you have to stay up and drink after the show, because [Connors] doesn't like to drink alone." And with all the seriousness of a seasoned touring musician, Connors adds: "You can hold your liquor can't you? Cuz we don't want no fallsy downsies in the band."
At that moment, Domet and Corbett looked at each other knowingly. "I said to Kevin, 'Whoever gets there first, gets it,'" explains Domet. Although Corbett spent a few unsuccessful weeks trying to convince his band to name itself Fallsy Downsies, Domet was set alight: "I started writing that day."
Other influences for the novel come from Domet's everyday life, including her habits of spending a lot of time around musicians and always listening to music.
"I've always had a really intense relationship with music," she says, citing a love for music radio from a young age. "Always been the kind of person who, when there's a song I like I just want to zip myself into [it] and wear it like a wetsuit---it's disgusting."
And it's precisely this physiological response to music that Domet represents in Fallsy Downsies, whether through intimate descriptions of protagonist Evan Cornfield's solo guitar sessions, or the way the reader becomes Lansing's most intimate audience--- while the real one is either enraptured or disinterested. (No matter; he always plays the same way.)
It is in this arena, the vivid distillation of the artist's experience performing for an absent audience, that Domet shines. And she's had time to see the effects of this phenomenon second-hand.
"To be in front of people who don't give a shit about what you're doing...there's something really brave about that," she says. "The people I know who are musicians and are grinding it out and know that there really is no such thing as a big break...[they] just continue to do the thing that they love to do because...if they're not making music they're not being themselves."
And for Domet, Lansing Meadows, a fictional fading icon of Canada's musical roots making one last go of it before he fades into obscurity, was the perfect vehicle for exploring these questions.
"I started to think a lot about how the public decides who gets to keep working. Bob Dylan doesn't give a shit if you like his new record...every few years he puts out a shitty one, just to be contrary. He does it and he's been able to do it. There's something that he's done that allows him to keep being an artist that is wild. Neil Young made some really questionable artistic choices but we let him keep doing that. I was really interested in those artistic questions."
It's this concept of performance that becomes the recurring theme in Fallsy Downsies. In many ways, the novel becomes an exploration of how we perform art, who for and how it's received. For Domet, the differences between Lansing's musical performances and her own written "performance" were constantly being pinned against each other.
"With music you're constantly presenting your work and changing it," she says. Writers "don't get to do that. You do it and it's done. It behooves you as a writer to feel that when the book is done you've closed the final cover. You cannot go with it into the world and tell everybody it's a special snowflake."
But Domet agrees that there is an intersection where all art performances meet: interpretation. "It's that complicated relationship between the art---not even the artist---and the audience," she says. "Once you make a thing as an artist it ceases to become yours, it becomes the audience's."
But how does an author reconcile this? "With Fallsy Downsies I feel like, my book is my book and my book is done, and whatever happens from here on in has very little to do with me or with my book," she says. And don't worry, if you don't like her book, that's just your version of it. "I never worry too much about people when I'm writing...or ever," she explains. "I just had to do the thing that was before me."
Join Stephanie Domet for the launch of Fallsy Downsies on Wednesday, October 23, at the Carleton because, according to her, "If Lansing came to town that's where he'd play."
---
Book club
Our cover star Stephanie Domet answers Whitney Moran's pressing bookshelf inquiries.
What are you reading right now?
The Son of a Certain Woman by Wayne Johnston.
What is on your must-read list?
The Maddaddam trilogy by Margaret Atwood, Caught by Lisa Moore and about a zillion more.
Who are your favourite local authors (and which books)?
It's so hard for me to name favourites because what's on my radar changes all the time, but here are a few that have been especially meaningful to me: Sue Goyette, Undone and Ocean; Shandi Mitchell, Under this Unbroken Sky; Ryan Turner, What We're Made Of; Jaime Forsythe, Sympathy Loophole.
What is your favourite book of all time?
Oh man. How am I supposed to name just one? There are two books that were formative for me in my earliest days of writing, when I was a kid. I read them ]over and over again: The Outsiders, by S.E. Hinton, who was herself a teen when it was written and published, so that was inspiring and The Catcher in the Rye, by J.D. Salinger, because it was so funny and strange and present and I didn't know, up till then, that you could write like that.
Which author do you most admire?
Timothy Findley. His books regularly blew my mind in my adolescence and early 20s.
What book do you wish you had written?
February by Lisa Moore. Grief is certainly one of the subjects to which I return over and over, and I'd love to some day be able to plow that ground as deftly as she does in that book.
A book people would be surprised to find in your collection:
I have a full set of Hardy Boys hardcovers.