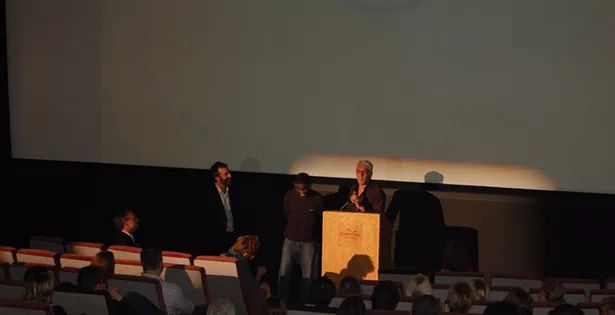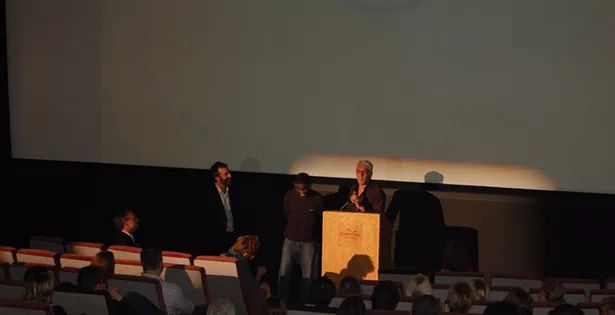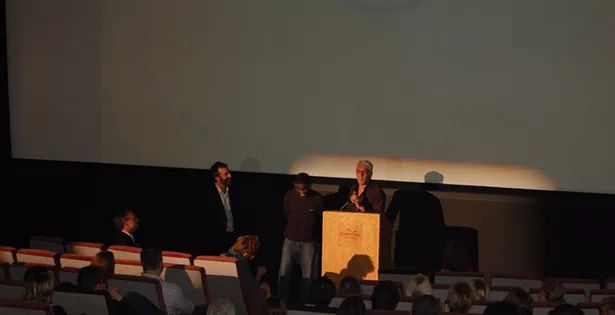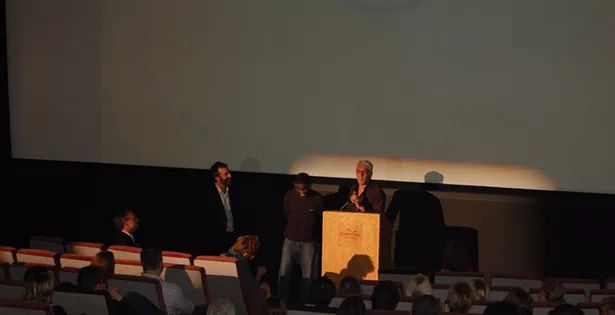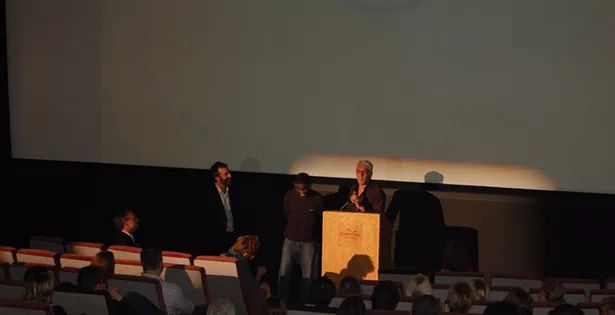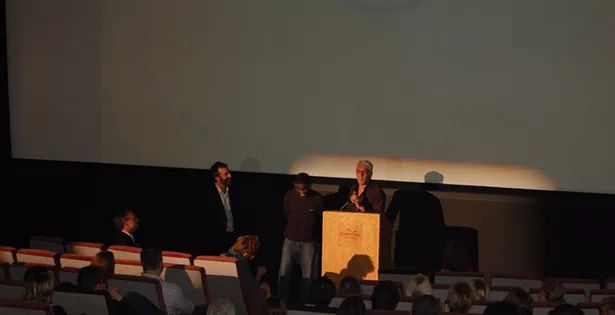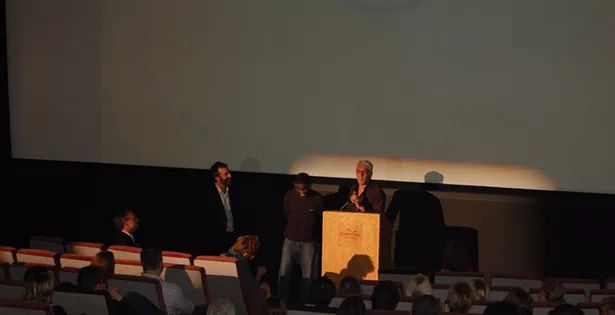 If you're allergic to long political talks, save the sparkly dress and avoid gala screenings. Speeches at last night's Blindness gala ran from the passionate--AFF board chair Jennifer Gillivan received a well-deserved standing ovation for what was the most compelling "Arts are important" speeches I've heard (run for office, please)--to lame-o--there were gentle snorts and giggles during culture minister Bill Dooks' talk about tax credit, blah, blah, oh yeah, and apparently Nova Scotia is "safe" (huh?). He also used the H-word: good ol' Nova Scotian hospitality.
Blindness screenwriter and personal crush magnet Don McKellar has a point though: these days, if you see a politician at a cultural event, breathe a sigh of relief.
Blindness' Don McKellar, actor Mpho Koaho (Pharmacist's assistant) and producer Niv Fichman experience good ol' Halifax hospitality.
Gorgeous cast from the Keshia Chante's new VisionTV show (about a gospel singer with pop aspirations) shooting here now, including Mpho Koaho, who mark my words, is going to be a star. And he's lovely. Apparently Blindness director Fernando Meirelles was so taken with him, he expanded Koaho's character in the film.
Paul MacLeod, from a little paper that rhymes with "retro," and two-thirds of my favourite contraceptive-dubbed band, The Rhythm Method.
"Oh hi. My name is Carsten Knox and I'm a totally profesh journalist who will ask you intelligent questions and not stand beside you at events for years and go duhhhhhh. By the way, have you met my editor, Sue?" CK busts through my shyness by throwing me right in. McKellar was very sweet, and talkative and didn't think it was too weird that I played blind, thanks to a Little House on the Prairie obsession.
So shiny. Don McKellar blinded by my charm. it's at about this point that Rosanna Arquette shoots through. She's very wee and hard to find.
Cubers director Richard LeBlanc has promised the Cube champs that he will master the puzzle this weekend (he can't do it without removing stickers). Check him out Saturday afternoon at Park Lane, from 2-5pm, where a couple of these cubeheads will be holding a workshop.
Paul Hammond from 6015 Willow. He's a big-time producah.
I have many more photos, but I'm off to the afternoon screening of the Atlantic Short Gala. Nothing I love more than dead mermaids and pissed-off holiday decorations on a hung-over stomach.
Dinner: leftover bean tostados. beer. nacho cheese. The descent continues.