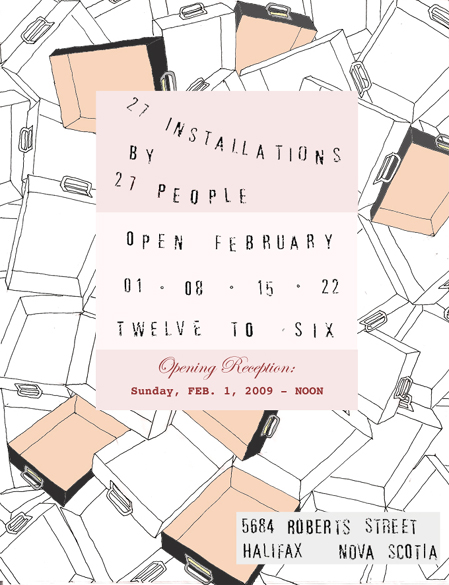 This Sunday is the last chance to see 27 Drawers, at the Roberts Street Social Centre (5684 Roberts), a tiny exhibition with big ideas, co-curated by Rob Shedden & Lisa Lipton.
The idea for the exhibition initiated with one of Shedden's basement treasures—an old filing cabinet. The curators wrote me an email to explain a little more about the show:
"27 Drawers exposes the collections and interpretations for the content of 27 small drawers to fill an old filing cabinet found within a local Halifax basement. The contents within each drawer varies with each of the 27 international contributing artists, for as curators we set to define the project with only one perimeter — the work had to fit the dimension of the drawer, rather than setting up a thematic construct for a group of cataloged work. This filing cabinet shall serve as a gallery for the display of multiple artists' works as well as a foundation for a further collaboration.
"We initiated this project by sending out a call for submissions; we asked artists to send installation proposals relative to filling one of the small drawers contained within a filing cabinet. We left the context and medium utilized completely up to the artist with an understanding that all accepted works chosen for the cabinet would inspire twenty-seven, one minute videos. As curators and collaborators in this exhibition, we planned to respond by developing a one-minute video in association with each drawer. "27 Drawers" is an experiment in broadening the curatorial arena where upon we turn to collaborating with the contributing artists' rather than serve to host an open collection.
"We aim to exhibit work that is hinged on an obsession with collecting, with gathering and stringing things together, as we collect and amalgamate artists' drawers as well as find further inter-connectivity through the processes of collaboration and responsive one-minute videos. The nature of a collection could be anything and this is where we choose to begin, with anything; artists could provide us with anything, any medium or subject matter to fill a drawer in a larger collection. As an alternative to taking on traditional curatorial roles, we want to operate beyond thematic structures or conventions, draw inspiration from lack of restriction, and orient visuals around free-association to expand an investigation into collecting and curation.
We can't give away any of the secrets in the drawers, but they do say, that "It has been a pleasure to be able to work with so many people on an intimate scale. It's nice to think that 27 people can share there creative energy in an old shop cabinet. There are a number of radical participants within this exhibition, both locally and nationally - artists from Montreal, Toronto, Vancouver, etc. Examples of works: postcards, soft sculptures, systems for filing, cakes, dioramas, etc."