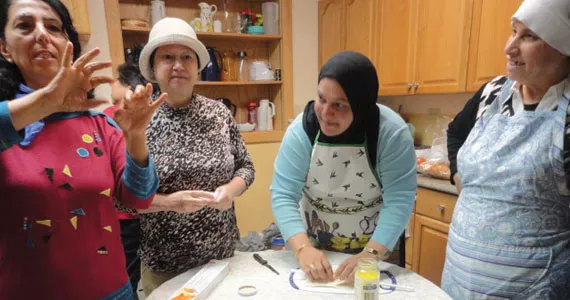 One granny holds out a plate of uncooked pastries to an audience packed into a small kitchen in St. Andrew's Community Centre: "In Arabic, we call them orsh boulabl. In English, I don't know."
Several grannies weigh in: Bird's Nest! They are called bird's nests!
"My English is no good," the cook says ruefully. No, you're doing great, they reply.
"Here, I make you one," she says. It's a magic trick. She takes a plastic stir stick and rolls pastry around it. With a sleight of hand, she twists the pastry off, makes a fist, waits a second (to build suspense), then opens her fingers: One perfect crescent bird's nest.
This is Grandma's Kitchen, a weekly lunch club where senior immigrant women can socialize and talk in English through the age-old medium of cooking.
As immigration increases, social isolation among senior immigrants is a growing problem, says Maha Amin. She's the project coordinator with the YWCA who set up this kitchen party on a grant from the Nova Scotia Department of Seniors. "Some of them do not speak the language, so it is hard for them to go anywhere. Coming to this place and getting to know the faces and know the people, it makes them comfortable."
Up to 30 women over 50 show up every week at St. Andrews. They come from from all over the city: Clayton Park, Bedford, Beechville, Herring Cove, North End, Fairview. Volunteer translators for Persian, Arabic, Spanish and Chinese float around, helping like linguistic wait staff.
Hajja Um Saied pours sweet, rosemary-flavoured syrup over pastries. She's raised a family in Halifax for 19 years and is part of the team cooking today's lunch. "It's multicultural for all the people," she says. "You show everybody how you cook and everybody can learn what you do."
People talk food and family as they watch the cooks work. Chatter peaks as lunch is served. A dietician talks about salty and fatty foods. She passes around plastic models of chicken nuggets and pizza. Noses wrinkle. Processed foods do not amuse.
"For most Arabic and some immigrant families, they do everything from scratch," says Amin.
Previously, Amin organized Iranian and Afghan lunches; this week, Najah Daloul and Bahira Al Quishawi cook Palestinian cuisine.
On a long table sits a lovely array of dishes. Plates of quick pickles and hunks of raw chopped vegetables as a salad. There's seasoned rice, lemony chicken thighs, light-as-air falafels, foul mouddamas, hummus, hot fresh rolls and superb homemade condiments like pickled lemons and hot sauces.
It's simple, good food, prepared with care. Daloul says cooking for these grannies isn't hard compared to feeding eight kids. "My family really likes my cooking," she says proudly before switching to Arabic.
"They have an idiom in their culture," translates Amin, "saying that kids love their mom's cooking, whatever they cook. Even if they serve them water, they will love it."
Grandma's Kitchen needs more immigrant and native-born seniors to help with the spoken English. Many women struggle with language more than the socializing. They're all clearly at ease with one other.
Seniors from a club across the hall often drift over for lunch. Every week, appetites grow for this kind of authentic home- cooking, Amin says. She hopes to build the program, as greater turnouts will lead to further funding, which ends in March.
"This is why we try to get mainstream Canadians with us here, so they know. Because they love it," says Amin.
Grandma's Kitchen is located at St. Andrews Recreation Centre, 3380 Barnstead Lane. Resuming January 4, Wednesdays, 10am-1pm. To get involved, contact Maha Amin: mahamaha99@hotmail.com