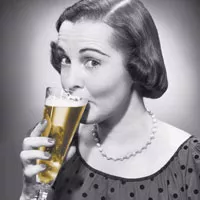 It's hard to express how happy this makes me. Tonight marks the inaugural meeting of Halifax's Ladies Beer League, a righteous craft club giving we beer-loving women (or beer-hating women for that matter) a place to get together to learn about and think about great beer, plan beer-related events, and of course, do some drinking.
The crew will get together for a few brews on the second Thursday of every month. Tonight it all goes down at Garrison Brewing Company (1149 Marginal Road) at around 8pm, and $5 will get you entrance and three drink tickets to get you started. Join the ladies in tapping the Nit Wit cask and planning for what the future LBL get togethers will hold. We're pretty there are many, many good times (and good beers) to come.
You're going to want to give the ladies at follow at @LadyBeerLeague to keep tabs on upcoming goings on. Watch next week's issue of The Coast for the ultimate craft beer lovers' summer roadie itinerary.