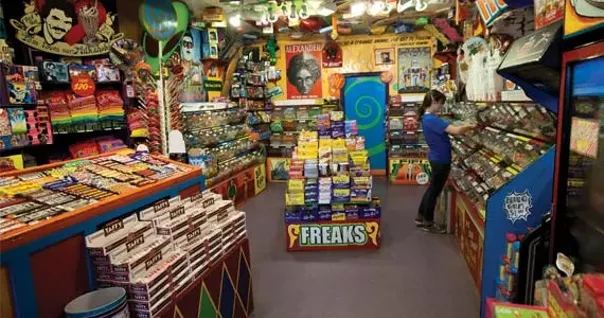 It's another story of workplace unrest in a year of renewed labour focus on the local service industry.
Two longtime employees at Freak Lunchbox are no longer with the popular candy store, with one telling The Coast she was fired without cause after organizing staff to voice their concerns.
Tegan Macfarlane, 24, was dismissed from the company's flagship store on Barrington Street back in August, two years to the day after she was hired. Her coworker and friend, Nicholle, 26, quit at the end of September after five-and-a-half years. (For privacy reasons, Nicholle requested her last name not be published.)
Both say the company's owners, Jeremy Smith and Erin Schwanz, created an environment where workers felt unheard. They say they repeatedly brought up concerns to management—concerns such as introducing paid 15-minute breaks, getting a slip mat for the front entrance and an anti-fatigue mat for employees standing behind the cash—all to no avail.
An anti-stress mat was brought in for a short while but taken away by the owners who felt it was unsanitary and encouraged employees to stand behind the cash.
"It's us just going above-and-beyond what our responsibilities are as laid out in the employee handbook and still getting this feeling of mattering less than a used tissue," says Macfarlane.
So the workers decided to organize. Group meetings were held after-hours, off-site. The employees drafted a letter, asking the owners for a meeting to formally address their concerns.
After Smith found out about the letter, Macfarlane says she received a text cancelling her shift and calling her in for a meeting to "clear the air." During the meeting, Macfarlane was fired.
The store was "in need of a change," says Smith.
"It had reached a point where I think [Macfarlane] would be happier somewhere else if she's starting to nitpick little problems she sees with the business," he says. "It was definitely necessary, and I'm sorry someone's feelings got hurt, but it's over and I'd like people to move on, ideally."
Nicholle was then offered a promotion to assistant manager, which she says she accepted as a way to "put more space" between owners and staff. In that role, she says she was told to look back through the manager's old emails to view past orders, which is how she came across messages about herself and Macfarlane.
"There is absolutely no room for this type of drama," reads one letter from Schwanz's email address. "Clearing this type of poison out will make all of our lives easier and the store will run better/staff will be happier."
A week later, Nicholle quit.
Smith says he's unfamiliar with those emails and declined to verify their contents. The business owner does confirm Nicholle quit because she was no longer comfortable in the workplace after her friend's dismissal.
"We really just want enthusiastic, bubbly employees," Smith says. "They were looking for more from a job that couldn't give them more."
The proto-organizing efforts of Freak Lunchbox's staff are not a unique occurrence this year in Halifax. Macfarlane and Nicholle say they were directly inspired by former Smiling Goat employees who opened the co-op Glitter Bean cafe this past summer.
But Freak Lunchbox is no Smiling Goat. As Smith points out, there are no labour violations here. An owner does not need a reason for firing an employee of fewer than 10 years. He paid Macfarlane the required severance and Nicholle left of her own volition. This is the only workplace issue Smith says the company has had among its 40 or so employees, spread across five stores in three provinces.
Three other current and former Freak Lunchbox employees contacted by The Coast, however, back up Macfarlane and Nicholle's accounts of their workplace. One of those individuals recently contacted the Labour Board to look into the staff's complaints.
Smith says an investigator visited the Barrington Street location but found no cause for concern. Freak Lunchbox is a "happy, positive environment," he maintains.
"It really was a negative attitude towards ownership, is what it was," Smith says about his former employees. "Unfortunately, that's the structure of a business. There's an owner."
Nevertheless, the former Freak Lunchbox staffers hope their story inspires other employees across the city to stand up, together.
"I want it to be better for my friends working there now; better for people I don't know who might be working there someday," says MacFarlane.
"The power that we have comes from our relationships with each other and what we can build with each other," adds Nicholle. "It seems like the power that bosses have over workers' lives is unchallengeable and unshakeable...But I think the power we have is in working together."