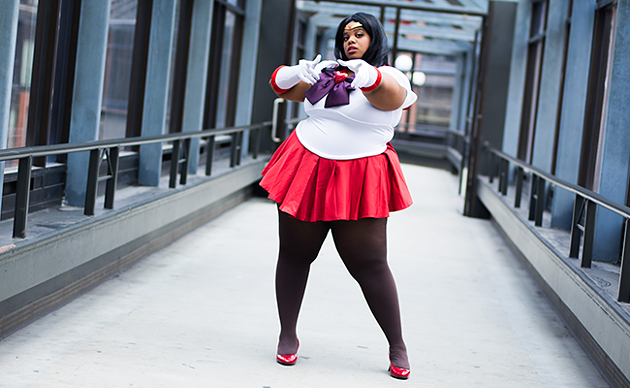 One would think that nerds would be the most welcoming of people, however, when we get into the realm of cosplay things can take an ugly turn. Oftentimes Black cosplayers are on the receiving end of sickening vitriolic racist comments. And, when we add body politics to race, we get a whole other volatile kettle of fish. Alicia Renaé (or, Kiss A Frog Cosplay) is a plus-sized cosplayer and woman of colour, and despite playing dress-up ain't here to play.
As a plus-sized Black woman, Renaé has worked hard to prove that everyone deserves a seat at the proverbial cosplay table. She is confident, sharp and approaches her art form with such gravitas that it's inspiring. It's amazing to see how something as seemingly innocuous as cosplay has been woven into the movements for racial and body-size equality.
Black and plus-sized cosplayers have cemented themselves within the subculture despite not being readily welcomed.

tweet this
However, there is still much work to be done. In October 2015, Kat Blaque, a "nerd of colour," uploaded an episode of her vlog on YouTube as a response to being told that it isn't racist for white men and women who cosplay in blackface. Blaque commented, "If you're a white person, you have most of the characters...for a Black person, we often have to cosplay as the black version of these characters."
Last year basement-dwelling trolls tried to shame plus-sized cosplayer Holly Quinn, but due to the power of decency, that backfired. Black and plus-sized cosplayers are burgeoning groups that have cemented themselves within the subculture despite not being easily and readily welcomed.
Through her art, Renaé interrogates the notion of what is "appropriate" for cosplay and shows that in the world of make believe we can be whoever we want to be. See her this weekend at Hal-Con where she will have a booth and participate in the Cosplay Q&A and Cosplay for Everyone panels.
Cosplay Q&A

Friday, September 22

World Trade and Convention Centre, Room 302, 2:45pm


Cosplay for Everyone
Saturday September 23
World Trade and Convention Centre, Room 302
, 11:45am