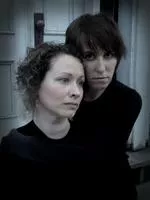 The Maids appears to open with a nasty conversation between a wealthy woman and her servant. The mistress is contemptuous and cruel. The maid alternates between simpering submissively and shooting truly venomous looks. All that changes when the alarm clock rings and the scene is revealed to be a simulation of a dysfunctional relationship played out by two maids.
The maids, played by Colleen MacIsaac and Schoel Strang, are a pair of twisted sisters who seek relief from their life of servitude through their psychosexual games, and the games end badly.
MacIsaac and Strang are fabulous, capable of portraying mercurial changes and intense sexual longing. Holly Arsenault is equally as riveting as the callous, high-maintenance Madame.
The set and costumes are surprisingly plush for a Fringe production. A job well done with this classic, complex play.
80 Minutes $7
Mature Audiences
North Street Church Theatre
Thursday Aug 30 8:30-9:50
Friday Aug 31 7:30-8:50
Saturday Sep 1 12:30-1:50
Sunday Sep 2 7:30-8:50
Friday Sep 7 9:30-10:50
Saturday Sep 8 NOON-1:20