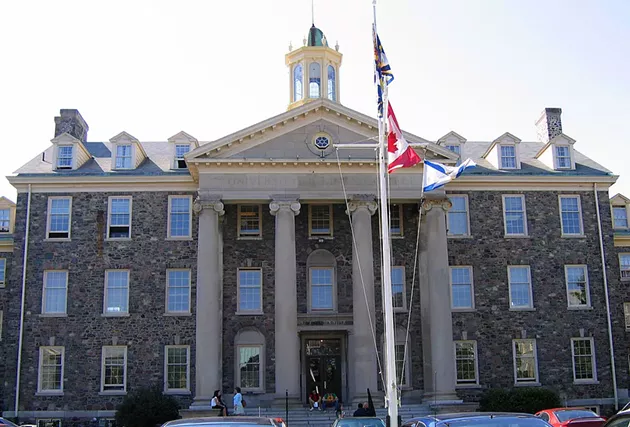 The University of King's College is taking a serious look at its own historical connections to the slave trade.
The school announced on Monday it's creating a scholarly inquiry to examine the direct and indirect benefit King's has received from slavery in the 18th and 19th centuries.
According to an
accompanying press release
, the inquiry will include original, independent academic research performed by a team of Canadian and American scholars.
"As the oldest university in Nova Scotia and one of the oldest in Canada, we have a responsibility to examine and acknowledge all aspects of our life as an institution devoted to seeking and understanding
truth
," writes university president William Lahey.
"Equity and diversity are core principles of today's King's College. In the spirit of reconciliation with the African Nova Scotian community, we want to examine our past openly and honestly."
The original King's College
was founded
in Windsor, Nova Scotia in 1789 by Loyalists fleeing New York during the American Revolution. It's long considered itself a successor to the King's College in New York City, which was renamed Columbia University after the war.
Last year, Columbia published research
tying its early years with the slave trade
. In Canada, the re-established King's College also greatly benefitted from funding made directly off of slaves in Barbados.
The Society for the Propagation of the Gospel in Foreign Parts (SPG), a mission organization for the Church of England, earned considerable income off of its Codrington Plantation in Barbados. As described for the
Halifax Examiner
by El Jones, the conditions were
notoriously brutal
:
"Four out of 10 Africans died within three years of their enslavement; a number higher than the average on the rest of the island. Adam Hochschild concludes that the plantation had a deliberate policy of working Africans to death, as it was cheaper to buy slaves in Africa than to bother to keep them alive."

The SPG supported the fleeing Loyalists from King's College who wound up in Nova Scotia. Several of the university's founding members were members of the SPG, and the society's money covered much of the school's expenses in those early decades. Here's Jones,
again
:
"In 1808. John Inglis, the son of Charles, successfully obtained scholarships from the SPG to support students. This financial support—including $50 towards the president's salary for chaplaincy duties, endowing faculty, student scholarships and other grants—continued throughout the college's tenure in Windsor. Faculty at the college were also granted missions for the SPG and drew salaries for those responsibilities while teaching at the college...While the grants from the SPG varied from year to year, [its] contributions far exceeded those given by the provincial government to support the college."
With its new inquiry, King's becomes one of a number of universities—including its parent school,
Dalhousie
—that are re-examining its past to uncover any racist rot underneath.
"King's cannot hope to be viewed as a welcoming community to people of African descent unless it openly and forthrightly addresses the questions that can legitimately be asked about its history on race, including its history relative to slavery in Nova Scotia," states Douglas Ruck, a King's alumnus and member of the inquiry panel, in today's release.
Research to be conducted will examine King's relationship to its New York progenitor, indirect benefits from an economy and society dependent on slavery, and direct connections to patrons, founders, faculty, staff and students who were involved in or benefitted from slavery.
The work will be conducted by a host of academics, including University of Vermont professor Amani Whitfield (an authority on slavery in Nova Scotia), African North American history professor Carolyn Smardz-Frost at Acadia University, and Saint Mary's University professor John Reid.
The inquiry work is scheduled to be completed by early 2019.