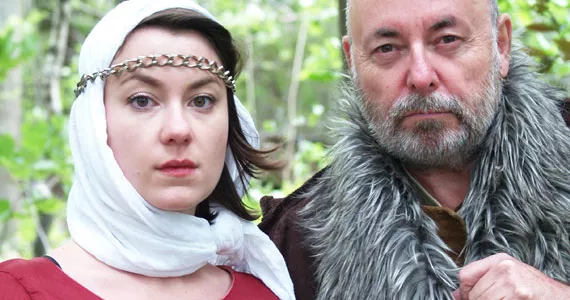 King Lear
Thursday, August 25; Saturday, August 27; Tuesday, August 30; Friday, September 2, 7pm
Cambridge Battery, Point Pleasant Park
PWYC (reserved seat $25)
It's no surprise the stage is littered with bodies at the end of King Lear—this is a Shakespearean tragedy, after all. However, what actually surprised me was how much I cared. Thanks to emotionally honest performances, I was totally invested in this Shakespeare by the Sea play from start to bloody finish.
SBTS's productions are naturally spare when it comes to scenery and lighting, and that works to shine the metaphorical spotlight on the acting. Paul Rainville as the foolish king is simply perfect. There is nothing showy about his performance. His journey from anger and petulance to heart-wrenching dementia—and finally to a brief sad moment where he realizes his culpability in the tragedy that has unfolded—is believable and devastating.
Daniel Gervais gives a remarkable performance as the loyal Kent, with the actor seeming decades older than he actually is. Henri Gielis' Edmund is a complex character: evil, yes, but also understandably wounded. Dorian Lang is delightful in the role of the critical but compassionate Fool.
Catherine Rainville, Melissa MacGougan and Hilary Adams give masterful turns as Lear's daughters—one honest to a fault, the others duplicitous and fawning—but Adams particularly shines as the power-hungry, lascivious Goneril. This is powerful, emotionally engaging, heart-wrenching theatre.