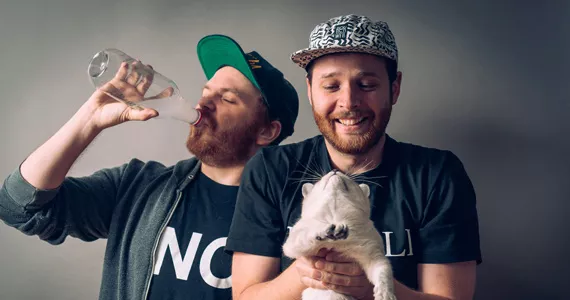 "What kind of salad dressings do you have?" DJ Stilldrunk (Loukas Crowther) asks the server. She lists varieties until DJ T-Woo (Trevor Wood) interrupts her, "Just bring him a bowl of something, he won't know the difference." For over four years, these two best friends have hosted the wild monthly dance-party Bleu Nuit. On Saturday, DJ T-Woo will make his last Halifax spins.
"It took some convincing to get me out of here," says Wood to Crowther. "But you're one of the main reasons I would stay." The graphic designer is moving to Yellowknife at the end of April for career opportunities and to reunite with his girlfriend. Crowther sighs: "I'll always be number two." Friends for about 10 years, they first met after-hours at Tribeca (#RIP) and had a long run hosting dance-night Panic!.
"I remember when Tribeca closed. I was like, 'What do I do? Do I stop DJing now?'" says Wood. Crowther agrees: "I think we all had that conversation with ourselves." Formerly Cafe Mokka, Tribeca's closure in 2012 set the DJs adrift, and Wood took up residency at the short-lived La Trinidade Lounge.
When that also closed, he and Crowther realized The Seahorse would be the perfect Nuit venue. "We have one of the most accessible non-top 40 dance-hit dance-parties in the whole city," says Crowther. "It's not at all like the Dome or Reflections. It's people who just like to go and dance." Wood elaborates: "That's what I like about our nights. You don't have to be a house-head, or a head of any kind; you don't even have to be that into music. Just come with an open mind. We have very eclectic shit."
With their lights, TVs, fog machines, video loops and projections in tow, Crowther and Wood started sussing out a new location for a second dance night last fall. In November, The Jam picked up at Michael's Bar & Grill. It's been successfully reviving the bar, which both DJs found to be underutilized.
"The Jam crowd is more diverse in ages, groups and music. It's really cool," says Wood, "I knew it was going to do well, but I had no idea it would do as well as it has so far." T-Woo's last night of The Jam will be April 19, after which Crowther and DJ Plaeboi (aka TK Thorpe) take over, with special guests.
"Are you going to get a new sidekick?" I ask Crowther. Wood answers: "No, he's not allowed. That's part of the deal." Crowther says, laughing, "I'm taking over, and then I'll drive it all into the ground." A joke, but both acknowledge that Wood's organization and attention to event promotion will be missed. "I won't be able to DJ to the same extent in Yellowknife, but DJing as a hobby can be such a huge part of your life. I've known for years this would never be my career. If I wanted to go that path, I would have done it a long time ago," says Wood.
But it's been worth it to see line-ups out the door. "It's nice to have something be so easy right before I leave, that's kind of reassuring," he says. It is obvious Crowther will miss his DJ buddy. "But Loukas loves KFC so it'll be fine," says Wood. "That's not true! I only get it once a year," says Crowther. Wood replies: "That's not true. You get it all the time." Crowther gives in, "I'm just mad because I tried to order it online this weekend but they don't take debit."
---
Bleu Nuit
Saturday, April 12 at 10pm, $5 before midnight/$7 after
The Seahorse Tavern, 1663 Argyle Street