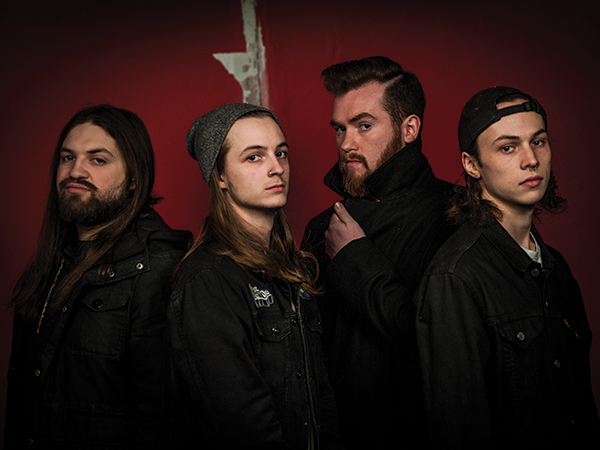 Kids Losing Sleep EP release show
w/Sundae Girl, Social Smokers Club
Dec 13 , The Seahorse Tavern, 2037 Gottingen Street, 10pm-2am, $12
---
The four BFFs in Kids Losing Sleep wanna set the record straight: Though they stan Katy Perry and were raised on bands like Sum 41, they're not just another pop-punk band. "We're emo pop," says Brycen Gunn, the band's bassist, as Owen Williams (guitar/vocals) and Jarod Gallant (guitar/vocals) both nod and smile, serious but also joking. "That's why I shy away from the pop-punk aspect of it: I'd rather have the youthfulness of it through a filter that allows more maturity."
Along with Zach Hazelwood on drums, the group of pals are pretty much always either hanging out or making music or both (they all live in the same apartment building). As the dudes barrel towards their mid-twenties, it makes sense that their songwriting—and band ethos—has grown along with them: "Subject-matter wise, you could draw a line to early 2000s pop-punk but I think if you dig a little deeper into it, it's a different approach to those same subjects," Williams says. "When I go back and listen to a lot of stuff that I loved—and still really love—sometimes it sounds a little surface-level: Even sonically, the music can sound shallow. So I think we try to do a similar thing but take it a little farther."
"We have a lot of feelings," Gunn says, laying across the table as the others laugh. The band's first EP, LOVES—a tight, seven-track effort with sparkling pop production and gang claps, produced by In Flight Safety's John Mullane—reflects this, with songs about breakups and feeling aimless.
"All the songs there is this aspect of love in them, and it's not just romantic love, it's not all that same kind of thing: As we all know, love is bigger than that, there's a lot of aspects to it," Gallant adds.
As Gunn sees it: "Our songs aren't written as if we're 16. We aren't 'woe is me' little shit-heads. For me it's just kind of the message of the band, that we're fucked up too—you're not the only one who feels that way or is dealing with that shit."