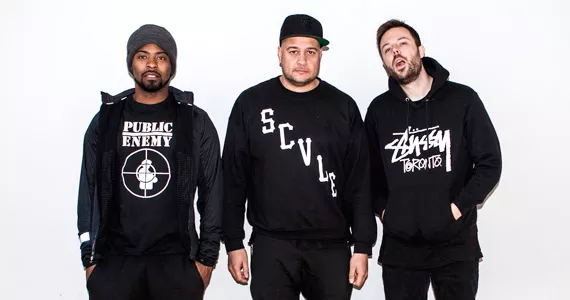 Second World Collective official launch w/Keys N Krates, gLAdiator, Sleepy Tom
Saturday, January 24 at 9pm
Marquee Ballroom, 2037 Gottingen Street
$35
www.secondworldcollective.com
Toronto's Keys N Krates walks the line between rap and trap, and that's mostly because it's not easy to describe what type of music they play. A live band playing electronic on stage, with all the energy of a rap group and heavy on the 808s—music journalists were at a loss. "Being a band in the electronic world wasn't the easiest thing in the world, and to be honest, people had a hard time describing our sound and what we are," they say. "When the trap genre started to pick up momentum, people were like 'Keys N Krates has 808s 75 BPM rap beats with fast high hats, they're trap!' If people have to label us to listen to our EPs then so be it. I think people feel more comfortable when they can put you in a category. We've never felt pigeonholed and I don't think you'll ever see us wave the trap flag either. We make rap beats."
Adam Tune, David Matisse and Flowinsky, the men behind Keys N Krates, are touring in promotion of their recently released Every Nite EP, playing in town at a launch party for the brand-new local entertainment company, Second World Collective. In an era (and a genre) where singles are god, Keys N Krates went the other way and decided to assemble an EP meant to be listened to as a whole. "In the past we had worked on music over time and kinda put our best singles together to make an EP. With "Every Nite, we basically wanted to take the best elements of the SOLOW EP and make a cohesive collection of music both for the club and at home. We're really stoked on how it turned out."
Every Nite doesn't stray too far from what you'd expect from the band: pitched-up vocals, 808s and rap beats dominate. But they always draw from their roots. "We all listened to rap and hip-hop growing up, but we were also influenced by all genres of music that our parents listened to. We are all fans of musicality and not just noises put together to make the club jump off," they say. "You'll see a lot of that in our songs, chord progressions, mellow, chill parts and dynamics. I think us being over 28 ourselves, it's probably just natural that we draw from our roots, which may be a little older than some of the younger producers coming up."
For any folks getting the bright idea to hop on stage in the nude as one keen female fan did last week, you should know Keys N Krates would really rather you not. The heavily circulated crowd video shows a confident woman leaping onto DJ Flowinsky's back just as the much-awaited drop happens. But again, please don't. "We aren't sure of what happened once our tour manager Jared removed her from the stage, I heard some body surfing may have happened. We've had lots of girls run on stage before, but this was the first naked one," they say. "All people on stage, including photographers, pose problems for us. We have a lot of cables and connections to make our show happen and people running around the stage can cause a number of things to go wrong, plus we are playing instruments and distractions can be the difference between a tight set and train wreck." You've been warned.
---