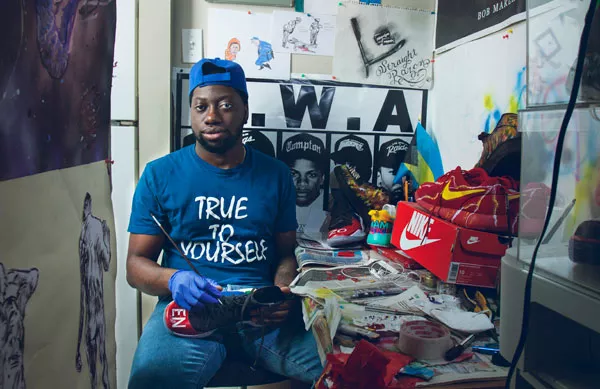 T

he
first time
Kemmy Smith decided to customize a pair of sneakers, it wasn't a business venture—he just wanted to express himself.
At the time, Smith's high school class was asking students to wear red for a fundraising event. Most students were wearing red Chuck Taylors. "I was like, man, I need to stand out for some reason," Smith recalls, laughing. He wore Chucks too, but he spiced them up a little: The Red Sox logo on one side, Charmander from Pokemon on the other. However, it wasn't until Smith's college years that he started painting sneakers to sell.
Smith is originally from the Bahamas, and he lived in Miami and Toronto before landing in Halifax. He's about to complete his interdisciplinary arts degree at the Nova Scotia College of Art and Design.
"One of my friends was like, 'Kemmy, your degree's in
drawing
. I want you to paint a pair of sneakers for me,'" says Smith. "So I painted them, and he wore them to a music video shoot and everyone went crazy for them."
That was last summer. Since then, Smith switched his personal Instagram to focus on his work, and Kreations by Kemmy was born.
"I went on Kijiji, found a pair of white beaters for like 20 bucks and I painted them up. And I got like 150 likes" on the photo, says Smith. "So I was just like, 'I guess I do custom kicks now.'" Smith has now established the business. He's taken on commission after commission, including pairs
for
members of the Halifax Hurricanes and Neon Dreams.
Smith's creations have been based off a variety of video games, TV shows, movies and more—one pair was even inspired by Skittles. Recently, he painted Nike Air Force 1 sneakers in the theme of Marvel Comics antihero Ghost Rider. Adorned with flames, skulls and spikes, it's one of Smith's favourite pairs.
"I'm an artist at the end of the day, so anything influences me," he says. "I might look at a bottle of Pepto Bismol and I might like that colour."
Smith compares his process to that of a tattoo artist. When someone comes to him with an idea, he usually has a consultation with them and sends them a draft of the design before getting to work. But "some of them let me do my own thing," he says.
While much of Smith's work is done on sneakers or boots, he's not one to turn down a pair of heels. Earlier this year, he was approached by Cassidy Megan, founder of Purple Day (an annual event which aims to raise awareness of epilepsy). She wanted a pair of shoes for an Epilepsy Nova Scotia auction. Smith picked up a pair of heels, painted them purple and added Swarovski crystals.
"I'm not trying to limit myself to one style, 'cause you're closing your door to another market right there," says Smith. Going forward, Smith hopes to move past simply painting shoes. What he'd really like to do is craft shoes of his own.
"I don't want to just be an artist that paints, I want to do more with organic materials and stuff like that," he says, adding that he wants to do laser engraving and embroidery. "There's a range of stuff you can do with it, it all depends on how far you want to take it."
Smith will be kicking it at the Halifax Crafters Society Spring Market on May 5 and 6.