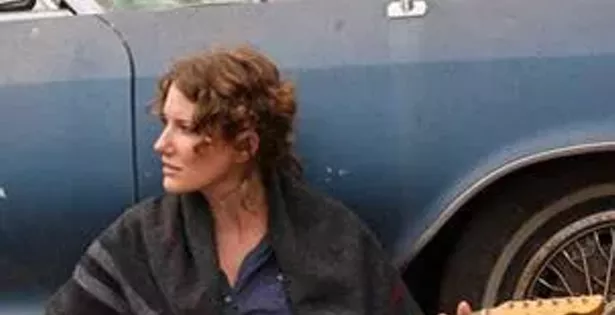 Kathleen Edwards stepped onto the Seahorse stage alone and without fanfare, picked up a worn acoustic guitar and slipped into the simple chords of "Away," the eighth and best song from Back to Me. The delicate tone was marred by a barful of mostly older patrons screaming at the dance floor standers to "Sit dowwwwnnnn! Sit dowwwwwwnnnn!" Which they did (respect your elders or have your show ruined). If Edwards was bothered by the uncouth display she didn't show it. She was then joined by opener Jim Bryson—always fantastic—and Gord Tough on twin Gibsons, and kicked into Failer's lead track, "Six O'Clock News," the very tippy-top of an 18-song set.
If you're wondering, as I did, where the hell this show came from, the answer lies in conceptual reality television, ie the CBC series The Week the Women Went, which just wrapped shooting in Tatamagouche. The producers invited Edwards to perform Asking for Flowers' title track on the finale, because it's about appreciating your mate, but as Edwards put it, the show's participants were probably thinking "Who the fuck are you and what the fuck are you doing in our town and what the fuck does this have to do with anything?"
It's the best not-quite-right idea a producer's had in a long time, because Edwards decided to stop in for a show on her way to the airport. Rumours are she'll be back in January with her full band, but if you weren't at this intimate, accessible, powerhouse of a show I feel bad for the shoving and standing you're going to do at the Cunard Centre (allegedly). It took her a few songs to warm up to the crowd, but once she did she was amicable and talkative, and thankfully the audience didn't feel comfortable enough to try and chat her up from the floor, always mortifying.
"This is my mother's least favourite song," she announced before launching into "Westby," from Failer, turning her head from the mic to rapidly spit out the line "AndI'malittlebleederwithwhitepantson." She nearly lost it on "Scared at Night," a true story about her father accidentally shooting his childhood cat and then having to finish the job ("I'm OK," she insisted, more to herself, during the intro) and hauled out her classic violin training on the Flowers b-side "I Can't Give You Up," a gorgeous ballad that found her drifting into her upper register, a rare but appreciated occurence.
A four-song encore—the setlist had the excellent "Copied Keys" in the lineup but it was junked in favour of a cover of "Only Love Can Break Your Heart"—felt like the beginning of a whole new set, and it's possible the poor people on the Seahorse concrete, under the random drips of god knows what, would've stayed there for another 90 minutes.
It's one of the few times you think, hmm, January cannot come quickly enough.
SET LISTAwaySix O'Clock NewsOil Man's WarAsking for FlowersRun Hockey SkatesIn StateI Can't Give You UpScared at NightWestbyThe Cheapest KeyMercuryI Make the Dough, You Get the GloryBack to Me
ENCORESure as ShitSummerlongGoodnight, CaliforniaOnly Love Can Break Your Heart