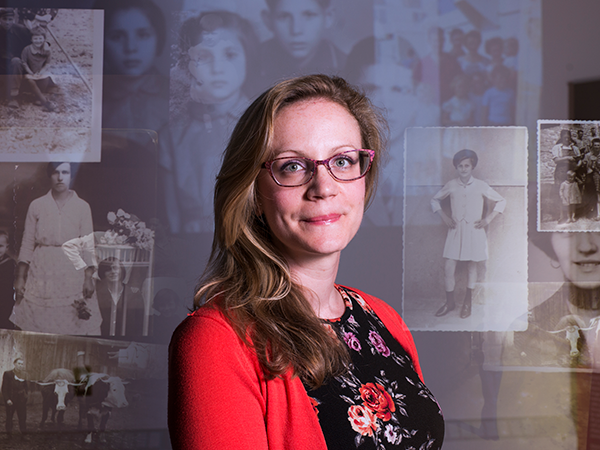 Katarina Marinic, Oceans of Change
To November 3
Canadian Museum of Immigration at Pier 21 1055 Marginal Road
---
Katarina Marinic is the child of immigrants, the ways many of us who live on this large rock called North America are. The travelling branches of her family tree are more fresh and linear than some, though, stretching across the Atlantic when her parents arrived as teens from Croatia, and her grandparents disembarked from a boat docked at Pier 21. She revisits her trove of family photos often, studying faces and names and familiar, frayed-edged stories of celebrations past.
It makes sense, then, that hers are the eyes that are currently navigating the huge archive of family photos stored at the Canadian Museum of Immigration at Pier 21. "It's meant to be a link to the museum's current exhibit, Family Bonds and Belonging," she says. Her installation Oceans of Change, viewable now at the museum until November, began with "taking archive museum and family photos and animating them in a metaphorical ocean—like how people travelled across big distances to find new homes. Family Bonds asks 'What is family?' and people all have a different idea—like, your dog could be your family, there are queer families, there are so many ways to be a family.
"It's creating after-effects on still images to put them together in a way that's time-based."
The plan is for the installation to act as a living organism, "taking everything that's in there"—there being the museum's photo archives—"and incorporating it little by little—images of people coming off the ship, of people in the dining car, formal portraits," Marinic continues. "I want, by the end of my residency, to have very diverse images without putting them into a box."
But as much as the installation has its eye on the past, its feet are planted in the now, with Marinic using her photographic background (she's been studying at NSCAD for the past four years after time working in commercial photography) to snap shots of willing visitors to the exhibit that'll wind their way into the piece.
"I just felt like it was a way to think about my family and what that means and to engage with the public," she says. "I think in the medium of photography, I was trying to think about what family portraits mean now. People use their phones, versus 30 years ago in a formal setting in a studio. Where a lot of what I'm starting with are formal, and even the 1970s are more snapshot-y, and I find that [evolution] interesting. And how people are sharing family photography. We have access to record moments like a child's first steps much easier than in the past."
And while "people can pop in and out" of the non-linear, non-narrative installation that Marinic calls "a way to prompt people to think of the journey and how it can bring people together as a common denominator," the artist's hope is that viewers leave with a feeling of connectedness on their minds. "It'll be growing and growing, always moving, always changing, like the idea of family," she says. "You'll think of family differently at 15 than at 40."