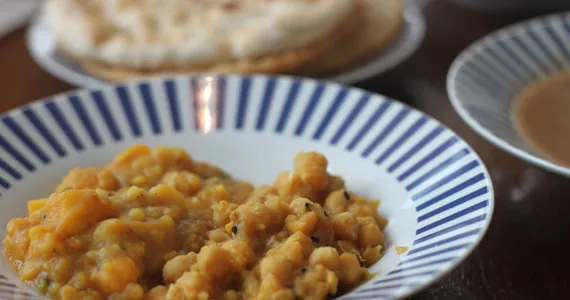 I love breakfast. It is, to put it very simply, the best. But, as a reluctantly aging night owl who steadfastly refuses to wake up, wipe the sand from my tired eyes and embrace a weary, grown-up existence as a morning person, my favourite meal---even if it's admittedly by default---is brunch.
From the moment I heard about Cafe Karachi's Lazy Brunch---an assortment of curry and flatbreads served from 10am to 2pm on Sundays---I knew I had to get there as soon as possible. So, at the crack of noon, my friend Heath and I head over.
Cafe Karachi is tucked into a tiny plaza in Fairview with a couple of other storefronts. As soon as we step out of the car and into the parking lot, wafts of spice fill the air.
We open the door into an almost comically cramped dining room; it's a restaurant that could fit in the palm of your hand. A counter takes up around a third of the space, a small L-shape with drinks on one side and the cash register and some steam trays full of curry on the other side. The handful of tables in the room feel both scattered and crowded.
The restaurant is crowded with families sitting in all but the table closest to the door, so we lay claim to it. The owner cheerily greets us from behind the cash, so we wander over to get the lay of the land. He is a delight, welcoming and friendly. He walks us through the menu options and ushers us back to our seats once we've both decided on the brunch.
The Lazy Brunch ($12.50) features a couple of readymade items---chana-aloo bhujia and nihari---along with some fresh bread, and a small dessert. Once you add a mango lassi ($2.50), the owner tells us, you have the foundation for a perfect pun: the lassi makes you lazy for the rest of the day.
It's very homey food: each bowl feels like a family recipe. The nihari is wonderful--- it's a stew of tender, fatty beef and soft onion with the warm, complex flavour of garam masala and a hum of ginger. A garnish of fresh lemon and finely sliced ginger is given to add a fresh zing. We sop up as much of the sauce as we can with warm, fluffy naan and airy, slightly crisp puri.
The chana-aloo bhujia, a plate of potato and chickpea curry, has a slightly sharper taste, and the combination of potato and cumin is nice and earthy. While there is nothing overtly spicy in the brunch, the mango lassi is still a nice, cooling counterpoint. It's a really great brunch. We finish it off with tiny bowls of halva, a sweet semolina pudding. It's a small, delightful exclamation point on a great meal.
By the time we're ready to leave, the restaurant has emptied. The owner chats and jokes with us as we finish up and pay our bills, and his wife pops out from the kitchen to ask us if we enjoyed our meal. It's clear they both enjoy what they're doing, and they bring a really familial feel to the experience.
It's tiny restaurants like Cafe Karachi--- small homey places run by families, featuring recipes they've brought straight from their own kitchens and dining room tables to the plates in the restaurant---where you really find heartfelt food experiences. These are the hidden treasures of Halifax.
I returned for dinner the next week with another friend and once again felt like we were being welcomed to a seat at a table in a friend's house and served up a meal cooked by their mother. There's nothing novel here, no drama---it's just simple, good food. I'm glad this restaurant exists in Halifax. And not just because I'm lazy.
---
Cafe Karachi
16 Titus Street
431-4949
Tue-Sat: 3-8pm
Sun: 11am-8pm
Click here
to write your own review of Cafe Karachi.