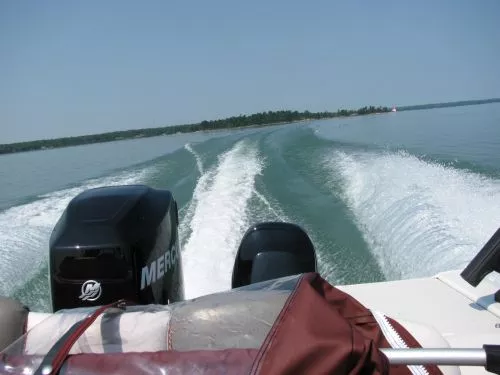 I'll tell you right at the get-go how this chapter ends and you can be all wriggle and smug because you know more than I do as the story unfolds.
This chapter ends with me tooting around the bays of St. Mary's River in a big ass speed boat, on a day with a perfect late morning, geese that flap and ascend into a cloudless sky and kids who jump from big rocks into green green water.
I'll catch you up a bit first. Back on the Sunday a week ago I am walking towards Naubinway, Michigan in rain. I feel fine; the rain is not too heavy and I have just had a gas station doughnut with lots of icing and some unspeakable filling. Two people in a van pull up and we chat a bit and they drive off but then they return and Kathy and Tim Miller drive me to Naubinway, buy me a big smoked turkey sandwich and then take me home and put me up in a spare room for the night. I get a shower and clean clothes and we have popcorn for supper, their Sunday night family tradition.
The next day they call a friend in Epoufette and when I get there that evening I have a camp space behind a restaurant. Tim and Kathy come by and give me a New Testament with a beautiful mauve leather cover.
A few days later I am walking east of Moran along a road under heavy construction, in a torrential rain. Buckets. A woman stops and drives me to Cedarville, where I stay in a motel to dry out.
Michigan continues on. On Saturday, two days ago, I walk to De Tour, which is pronounced like the long way around, which is what De Tour is to me. I want to take the ferry to Drummond Island and then get a lift to the west end of Manitoulin Island, in Canada, where I will walk to the east end and get the ferry to my sister Sue's cottage where there will be great coffee and lots of snacks plus fun of all kinds. It is a hard walk to De Tour, on a sunless day. The guy at the fish store looks up the trip I want to make, gives me the name of someone who might take me, and then says it will cost about $500, what with the cost of fuel these days.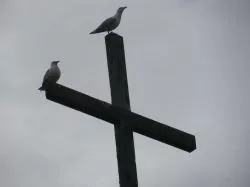 There is nowhere to stay in De Tour and I would like to stay inside. Instead I walk north out of town, and am stopped by two models of Great Lake freighters in the window of a frame shop. I go in. The models are four feet long and ridiculously cheap. The woman there gives me a miniature Milky Way and when I say I was a framer for eight years she shows me her mat cutter which is computerized and can cut any shape and font and costs $25,000. I find this machine very funny. It cuts double mats, triple mats, V grooves, and it never makes a mistake. I feel cheered. Then the woman, whose name is Becky, offers to drive me up the road where there is a place that rents cabins. The cabins are too expensive for me so I take the ride to her hometown, which is Pickford and thirty miles (a day and a half in Kansas walk time) away. I camp in the town's RV park and get a shower.
On the map I see that Neebish Island, Michigan (the very north east of Michigan) is cheek by jowl with St. Joseph Island, which is in Canada. Richard's Landing, on St. Joseph, has a phone for marine reports to Canada Customs.
I walk towards the ferry to Neebish. In Barbeau, just before the ferry, a church is having its annual chicken BBQ so I chow down. Mashed potatoes, cole slaw, pie plus the half of a chicken. The punch is incredibly cold and I am very hot. I drink a great deal of the cold punch.
I walk the four miles to the ferry and have a nice two hour wait. I dry out the tent. Two freighters go by.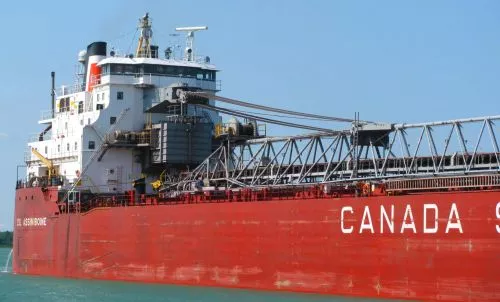 The two ferry guys are skeptical that I can find a way to back door into Canada from the island. On the island, which is small and remote and the kind of place you want to tell everyone about but have them never go to, I walk to the east side, and when I am most of the way there I meet an older couple charging around in a souped up golf cart and they direct me to see a guy named Tom down the road; he has a boat.
Canada beyond Fort Kansas
Tom's boat isn't in the water. He tells me to go down another road and see either of two people: Thomas or Zelnick. It is getting on in the evening, too late to bother strangers. It turns out Tom owns cabins at the very end of the road and he says I can camp there.
The cabins are run down and there is a guy living there in a trailer, with antennae poking out of the roof. He dog barks and barks. I set up my tent. I can see Canada. It will be a blow tomorrow to find out I have to walk back off the island and all the way up to Sault Saint Marie and cross a bridge you are not allowed to walk on, and then start the long walk down back towards Manitoulin.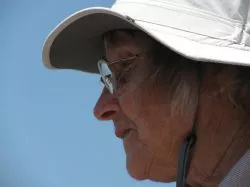 This morning I get up to a lovely morning. I pack up and walk to the road where Thomas and Zelnick live. The road is under construction and covered in large chunks of gravel and the going is tough. The first door I knock at is the Zelnick home and it is Helen who answers. She asks me in before she knows what I want, and gives me coffee. Dave is at the dining room table. They have been married fifty years and coming to Neebish from Ohio for decades. When they hear I want to get to Richard's Landing they call their next door neighbour Jim. Jim will be happy to take me to Richard's Landing and in the end Dave and Helen come too and we detour to see some beautiful bays and small islands which are giant rocks. We go by a big house on Picture Island;
the rumour is that George Clooney owns it. Because George is a friend of a friend of a friend and because in January I was staying two doors down from George in LA I am able to tell Jim, Helen and Dave that this large house looks similar to George's place in California, so maybe the rumour is true. We zip nice places and sloops and docks. At the landing we report into Canada Customs and then we go have eggs over easy and home fries and crispy bacon and slabs of toast.
Jim, Helen and Dave return to Neebish. It has taken me almost three weeks to get out of Michigan and I am walking up a pretty street and all the car plates are from Ontario.