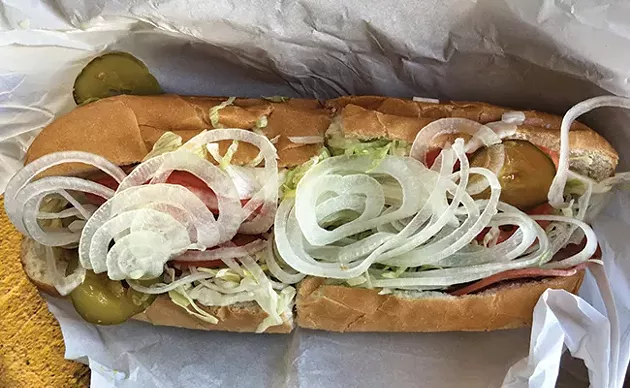 Nostalgia is a force of nature. It can come in a lightning flash and turn into a whirlwind of sentimentality or a tidal wave of longing or regret. It can't be manufactured in irony or kitsch lest you wind up with a pair of ruby slippers that do nothing but remind you of the home that you can't go back to. Nostalgia, the kind that really blows you away, requires sincerity.
Kaiser's Sub & Sandwich Shoppes opened in February of 1976. At one point there were a handful of other locations, but since the early 1990s this, the original location, has been the last one standing.
"It's a real simple business with a heck of a lot of detail. But that's just who I am." —Kaiser's owner Rick Baker

tweet this
It's tiny, just over 600 square feet. The mirrored walls are covered with old photos and laminated menu cards. A row of clocks runs across the left wall, showing "local times" in places like Halifax and Dartmouth. Lower Sackville Time hangs above the counter.
Every bit of space has something crammed into it: a display of pop cans, a toaster, a rotary slicer, a lotto machine, small groups of people standing shoulder-to-shoulder around menus or wedged on a little bench, the only seat in the shop, waiting for their orders. The menu has soup and chili, wraps and a three-slice "Dagwood", but most of the menu is sub sandwiches. There are over 40 possible variations of a sub with seemingly small changes—adding or removing different deli meats or cheese—it's a long list of simple wants.
"It's a real simple business with a heck of a lot of detail," says Rick Baker. He's been with the company 1978, running the restaurant since the early '80s. "But that's just who I am. That's what I strive for. There is a recipe for every possible scenario."
Around three quarters of Baker's business is the Kaiser's Cold Cuts sub, their original sandwich, a classic trio of pepperoni, salami and ham with cheese. An 8-inch sub is less than five bucks. My friend and I each get one double-stuffed ($6.73) with the basic works: lettuce, tomato, pickle, onion, mayonnaise, salt, pepper and oil.
"Nothing comes through the door cryovaced," he says. They cut everything but the tomatoes in that rotary slicer behind the counter. He gets fresh bread every day, sometimes twice, from the two bakeries he works with.
"It's definitely been an evolution," Baker says. "Not that we were selling garbage in the beginning, but certainly there has been an improvement over the years. I just wanted to get as consistent a product as possible."
Sitting on the tiny slant of dusty cement steps outside of Kaiser's shop, our paper bags as placemats, we snap open cans of pop as the air fills with that signature smell, the thick oily perfume of cured meat, salty and spiced, that lingers long after the sub is gone, the way campfire smoke curls itself into your hair. The first bite is an explosion of bike rides and snow forts, of skinned knees and first kisses. It's
The Goonies
and
The Facts of Life
. It's what a time machine tastes like, because after one bite I'm a kid again.
"Some people think the oil is the secret ingredient," says Baker. "All it is is a very light salad oil. It's just to bring out the flavour of the veggies on top. And people think we marinate the onions. I just buy a good onion: it's a Spanish onion. I core and peel about 40 pounds one day, we let them air out and we slice them the next day. And when we slice them we put them in stainless steel bins with three layers of paper in them. Maybe not everybody needs to know all that nitty gritty, but we go to some lengths in order to provide what we hope is a better rendition of whatever ingredient it is."
And there is something in this rendition, in the the grassy shred of the lettuce and those paper-thin rounds of onion, the thick pickle coins and slices of tomato that adds up to an unconditioned response: I can't help but think of simpler times. I understand why people have been eating here for 40 straight years.
"When all the franchises started coming in, people said we were old-fashioned," Baker says. "Go ahead 10 or 15 years later and we're called old school. Everything is cyclical. It's all perception. But definitely, we do it the old way."
They do it with sincerity.
---
Correction: The original version of this story credited Rick Baker (the current owner) as the original owner of Kaiser's. Robert Steele opened Kaiser's in 1976, but Baker has been with the company since 1978.