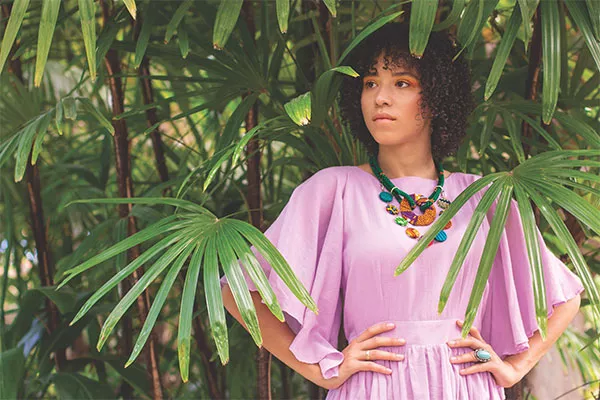 Kaia Kater w/Leanne Hoffman
Sunday, November 25, 8pm
The Carleton, 1685 Argyle Street
$17.50
Kaia Kater picks up outside of Buffalo, New York, on a coffee stop as she and her band head back to Toronto. It's the biggest band she's toured with yet, four in total, after a good stretch playing as a duo supporting her last LP, 2016's Nine Pin. Her new one, Grenades is a deeply personal concept album about her family history, but it's also an expansion of sound and styles, adding new layers to the core—her voice and banjo. She could use a few more people, to be honest. "It's a cool challenge of how to make a recipe from the least amount of ingredients," she says. "But it's also nice to have a few more ingredients on hand."
Kater, who stops at the Carleton on Sunday, made Grenades last year in Toronto, with Erin Costelo at the helm. "I've known Kaia for years, since she was 16 years old," says Costelo. (She's 25 now.) "Kaia's got a real clear vision for her music."
"I wanted a record that stepped outside minimal banjo-playing and Appalachian sounds," says Kater, "something more adventurous."
"The production for the record was asking a lot of questions, sending her a lot of music: 'Do you like this? Do you hate it?'," says Costelo. "And through that, discovering the sound she wanted to have."
Lyrically, Kater—whose lyrics have always explored relationships, racial and class struggles—pulls from her own background on Grenades: Her father left Grenada a few years after the American invasion in 1983. His experience—of the coup of his country's government, execution of its prime minister and subsequent US military action—is deftly threaded into Grenades' track list, as he explains what it was like to live there, and leave, and start a new life in Canada.
"I just wanted to hear his story. It was Christmas of last year, we went down into his basement and muffled some of the cracks in the doors," she says. "I stuck a microphone between us and asked him to tell me his story from start to finish. I'd never done that before, so it was a really deep, personal experience. It felt like such the spine of the record."
Her research also included a trip to Grenada itself, where she hadn't been since she was a child. "It felt really nice to be taken out of Toronto and other parts of North America, which are very solitary or individualistic," she says. "Which is not a good or a bad thing, but in Grenada everything is so relational. I remember people being identified as so-and-so's granddaughter or cousin."
These experiences inform and expand the music, which is still based around the Appalachian banjo music she studied—"she writes and performs with the skill of a folk-circuit veteran," Rolling Stone said on the heels of Nine Pin—but pulling in sounds from '70s folk, more modern Americana and jazz. There's an a capella song, one in French.
On the slow, mournful title track she sings, "Rain heavy/like carpet bombs/sweet grass and lemonade," juxtaposing the beauty of Grenada with its violent history, and her personal connection to all of it. "It was a really profound experience for me," she says of the visit. "It meant so much more to have that picture fully realized, you know?"