Display problems with The Coast's Nova Scotia COVID-19 case graph? For the mobile version click here.
Editor's note: In its 27 years The Coast has never been a just-the-facts news service, but for these strange times this news centre offers quick-hit updates.
Sunday, May 31
None kind of wonderful
Another day with zero new cases, zero new deaths!
Sunday's provincial report of no COVID-19 activity is a repeat of Friday's breakthrough, but it's not boring in the last. We'd actually like to see at least 14 more reports like that, in a row. Then Nova Scotians could breathe a collective sigh of relief, and hope we don't have some idiot doctor spark a new outbreak.
Saturday, May 30
Building and pandemic supplies
The Nova Scotia Health Authority put out a warning of "potential COVID-19 exposure" at peninsular Halifax's RONA building supplies store, 6055 Almon Street. The risky dates are last Saturday, May 23, Monday May 25 and Thursday May 28. If you were at RONA on those days, pay close attention to see if you develop any of the 13 COVID symptoms, and call 811 if you do.
It was two weeks ago today that the NSHA last put out this sort of advisory, for the Dollarama in Bedford over a long string of days in April and May. That was clearly a staffer at the store, going there many days in a row.
Earlier in the pandemic there was another retail advisory, for potential exposure on a single day at the Quinpool Road Canadian Tire (3:30-4:30pm) and the next-door liquor store (4-5pm). That one was clearly a customer doing a couple afternoon errands, leaving behind a potential trail of coronavirus in their wake.
Today's RONA warning feels more like the Dollarama situation than Canadian Tire, i.e. likely an infected employee, not a customer. A person in the middle of a repair job might need to go back to RONA several times over the course of a few days, but they wouldn't stay very long if they were just shopping. The advisory about RONA has no time limits, just dates, hinting at a part-time staff person working three shifts.
Not that it particularly matters who the source of the exposure is. The key take-away here is about you. If you were in RONA last Saturday, Monday or Thursday, and the NSHA's contact tracers haven't been in touch with you already, watch yourself for symptoms and be ready to call 811.
It's back
Yesterday sure felt good. The loosening of social restrictions was part of that, and the nice weather helped. But we've had both loosening and sun before.

What made yesterday really special was the report from the province that there were no new COVID-19 cases diagnosed, and nobody died from this wretched disease. That was unprecedented in Nova Scotia's months with C19, and it was a tangible mental relief after 75 days of relentless sickness and death.
And now the celebration is over.
Saturday's report from the province includes one new case diagnosed in the Central health zone, and one person's passing, the 60th death Nova Scotia has endured.
The death is associated with Northwood. We've asked the province for clarification on whether that person was a resident—as the other 52 Northwood deaths have been—or a staffer. We've also asked for details about where the new case was diagnosed.
Friday, May 29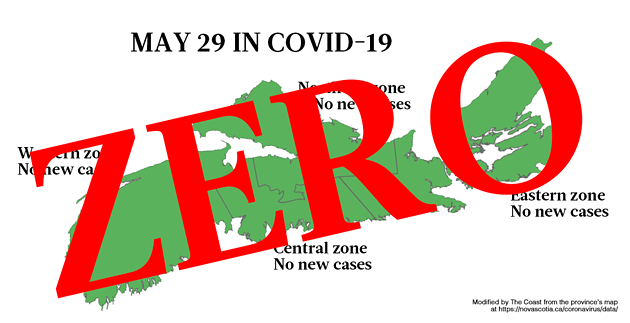 TGIF
So there's been some news. Zero new cases today, for the first time in the 75-day history of COVID-19 infecting Nova Scotians. And loosening of the public health rules to allow 10 un-bubbled people to get together—as long as they stay two metres apart—or even more at outdoor weddings and funerals.
Campgrounds can open (June 5 for private, June 15 for provincial). The provincial campground reservation line opens June 8. Swimming pools will be allowed to open soon, so maintenance can start.
Also open: Nova Scotia's State of Emergency, which has been extended for another two weeks. Watch for it to be reconsidered around June 14.
Thursday, May 28
A spike in testing
Last Friday, doctor Strang changed everything we knew about COVID-19 testing. Before, you were supposed to call 811 or do the online assesment if you had any two symptoms from the list of: headache, runny nose, fever, sore throat, cough. As of Friday, you only needed ONE symptom, and Strang added these eight symptoms to the list: muscle aches, sneezing, inability to smell or taste things, shortness of breath, hoarse voice, fatigue, red or blue lesions on the feet or fingers, diarrhea.
With the bar so low for testing, the number of tests should have gone up like a mid-stage COVID infection curve. And today, six days later, it finally did. Here's how many tests the lab at Halifax's QEII health centre completed over the last week.
May 22, Friday: 427 tests
May 23, Saturday: 561 tests
May 24, Sunday: 494 tests
May 25, Monday: 489 tests
May 26, Tuesday: 573 tests
May 27, Wednesday: 533 tests
May 28, Thursday: 1,136 tests

Breaking down the cases
There have been five new C19 cases over the last three days, and only one of them was a Northwood resident—that was Wednesday's single diagnosis.
Tuesday's two cases had no connection to long-term care. Both people were diagnosed in the NS Health Authority's Central zone (Halifax and vastly surrounding area). As top doc Robert Strang said at his Tuesday briefing, they were "known contacts of a previous case," so not technically the dreaded "community spread" sort of infection outbreak.
Today's two cases feature a staff person at Northwood, and someone in the Northern NSHA zone who has no connection to long-term care. It's not yet known if that patient represents community spread, or is related to a known case, or is a person who was travelling. "The public health investigation into that case is currently ongoing," the province told The Coast.
Nova Scotia now has 19 active cases; 16 of those are Northwood residents and staff, the other three are in the wider community. There have been 1055 cases in the province since March 15, and 977 of those patients recovered from the disease. The coronavirus has killed 59 Nova Scotians.
First case outside Central zone in weeks
The province is reporting two news cases of C19. One of these is a Northwood staffer, joining three other staff and 12 residents who have active cases related to the beleaguered nursing home.
The other case is a bit more unusual, because the patient was diagnosed in the Northern zone of the Nova Scotia Health Authority's four-district map. That area includes Truro, the hub of Nova Scotia, and all of Colchester County up to the New Brunswick border. Before today, the last new case in the Northern zone was Monday, May 11.

We're trying a new map graphic that shows the NSHA zones and cases, riffing off the province's version. Today's is a pilot episode; we'll aim to improve it in the coming days.
Wednesday, May 27
In case you were wondering
Of course another Nova Scotian has been diagnosed with COVID19. Will this blasted plague never go away?
The answer is no, judging by the way top doc Robert Strang keeps talking about a new normal, and the need to fight complacency and take C19 seriously even as the pace of infection gets less scary.
This new case is in the Nova Scotia Health Authority's Central zone, which ranges from Hubbards to Sheet Harbour to Windsor. No word yet on whether it's at Northwood or in the wider community. Strang will likely give this detail at his upcoming briefing with the premier, at 3pm. You can watch live at novascotia.ca/stayinformed/webcast, or catch it later at the Nova Scotia government's YouTube page.
Tuesday, May 26
A false positive!
At his webcast briefing with premier Stephen McNeil, head public health doctor Robert Strang had to do a little math correction. Yesterday the province reported Nova Scotia's cumulative total COVID-19 infections as 1,051 cases. Then today there were two new cases, so the total should be 1,053—but the province reported 1,052. What gives?
It's a happy error. A Northwood resident who tested positive a few days ago turns out to have been a false positive. Today's total of 1,052 cases is correct, and today's count of two new cases is correct. And the past is the past.
Back to briefings
The first regular COVID-19 briefing of the week starts at 3:00 today. You can watch live at novascotia.ca/stayinformed/webcast, or catch it later at the Nova Scotia government's YouTube page.
One person has died, two people have become infected
The province is reporting two new cases of COVID-19 have been diagnosed—we've asked for more details about them—and a woman has died from the disease. Although she was elderly, she was not associated with Northwood or another seniors' centre.
In an unusual amount of description for the province's daily report, it says: "The death involved a female in her 80's with underlying medical conditions in the Central Zone; she was not a resident of a long-term care home."
Nova Scotia has now had 59 people die of C19. All but seven of them were Northwood residents.
Monday, May 25
Two cases in the community outside nursing homes
The province's daily COVID-19 report has loads of information besides the number of new cases. There's the number of tests for the virus being performed at the QEII every day (489 in Monday's report, reflecting what happened Sunday), the number of C19 patients who are in intensive care (three today), the number for Nova Scotia's mental health crisis phone line (1-888-429-8167).
But it doesn't say anything about where each day's new case(s) got diagnosed.
To us, it's a strange exclusion. Public health supremo Robert Strang usually gives some details about the new cases in his briefings; maybe he liked to deliver that news personally rather than in the province's email report, although now that those briefings have dropped from six days per week to three—Tuesdays, Wednesdays and Fridays—it's not so effective a delivery mechanism.
The information isn't secret or unknown. And the province always tells us when we ask. However, we have to ask. Strange.
There was one new case reported Saturday, another Sunday, another today, for a total of three new cases. While the province didn't get back to us with the place details on the weekend, today we got info about the whole batch.
All three cases were diagnosed in the Nova Scotia Health Authority's Central zone—Halifax and the widely surrounding area, Hubbards to Windsor to Sheet Harbour. One case was a staffer at Northwood, but the other two were in the wider community, with no relation to Northwood or any other long-term care facility.
Damn this disease. At least Northwood residents got a few days off from being victims of that facility's outbreak.
Another week, another case
Welcome to the fresh slate that is this week's news! More information will be added to this story as the week goes by, so it's rewarding to repeat visitors, kind of like Frenchy's. (Also like Frenchy's, the new stuff goes on the top of the heap, so you shouldn't have to do a bunch of scrolling/digging for the latest.) We hope you come back every day to find out how many new COVID-19 cases have been diagnosed in Nova Scotia, plus other numbers and analysis.
Today the province has announced there's just one new case of C19. That's awesome compared to those mid-April days of 30- and 40-something cases. But sucks compared to everyone's desire to reach that mentally important zero-case milestone. So far there have been 1,051 cases diagnosed here.
In other, unambiguously positive stats, there are no new deaths to report. Nobody has died of the coronavirus disease since last Thursday. So far it has killed 58 Nova Scotians, 52 of those connected to the Northwood nursing home in downtown Halifax (the largest long-term care centre east of Montreal).
Other weeks have started worse, for sure. Here's hoping yours is beginning well, or at least as well as a Monday can.
———
The collection of news updates from the May 18 week is here.

May 11 week is here.

May 4 week is here.

April 27 week is here.

April 20 week is here.

April 13 week is here.