NOTE: This week is now over. For the very latest news, please go here. But for an informative look back at exactly how Nova Scotia responded to COVID-19 in realtime, keep on reading.
Display problems with The Coast's Nova Scotia COVID-19 case graph? For the mobile version click here.
Editor's note: In its 28 years The Coast has never been a just-the-facts news service, but for these strange times this news centre offers quick-hit updates.
Sunday, July 26
No active cases
That one active case that's been hanging around for a while—a patient whose recovery from the disease hasn't been speedy? You can forget about it, because on top of having no new COVID-19 diagnoses, today the province is reporting that that patient has recovered. Nova Scotia is officially free of C19. For now.
Saturday, July 25
10 days straight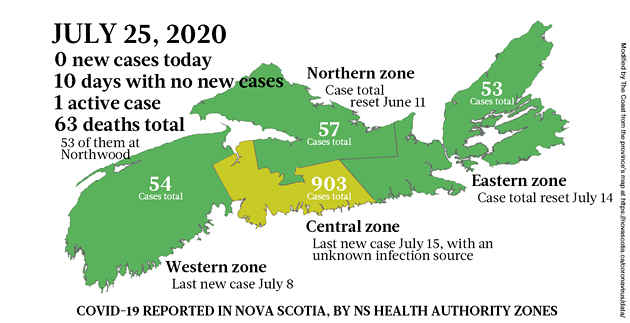 The longest streak of no-case days Nova Scotia's had was 20. That run started Wednesday, June 10, and didn't end until a case was announced Tuesday, June 30. With today's provincial report of no new cases, Nova Scotia is now 10 days into its current safe streak, half way to meeting the record.
Keep it going, everybody. Records are made to be broken.
Friday, July 24
Nova Scotia embraces the mask
"Please don't go looking for a reason to not wear a mask," top doc Robert Strang said at this afternoon's COVID-19 briefing with the premier. He was introducing a new rule—it's mandatory for people to wear non-medical masks when indoors in public spaces in Nova Scotia—that takes effect next Friday, July 31.

He spoke about what public spaces are, where masks are and aren't needed, and some of the exceptions for children and medical reasons. But he also mentioned using common sense, leaving the impression that we should get used to having masks on as much as possible around other people to reduce coronavirus transmission before the expected second wave of infections hits this fall. "Please don't ask, just wear a mask."
If you must ask, indoor public spaces includes malls and shops; movies, concerts and events; gyms, yoga studios and pools (except when you're actually working out); libraries and grocery stores; places of worship; elevators and hallways of office buildings and hotels; common areas at court buildings (but not in courtrooms). Restaurants and what Strang calls "licensed establishments"—you would know these as bars—are public spaces, and masks are required except for while you're eating or drinking.
When Strang mentioned bars and restaurants, he added a new movement restrictions on customers: Unless you're going to the bathroom or arriving/leaving (when you'd be wearing your mask), you have to stay in your seat. Not a big deal when dining out. A pretty serious buzz kill for the booze-lubricated socializing bars are made for.
Apartment buildings are residences that aren't open to the general public, so Strang says you technically wouldn't have to wear your mask in hallways or elevators. But we suspect the social pressure to mask for your neighbour's protection will be hard to ignore once you're in the swing of masking for strangers in the dentist's office and at the ferry terminal.
Government officials can ask you to remove the mask—Strang uses the example of getting your driver's license picture taken. At a wedding, you can take off your mask for the photos. The new rule doesn't add anything to the school masking protocols that came out earlier this week. Although Strang says "there are very few valid medical reasons to not wear a mask," people with a medical reason to avoid masks won't be challenged for non-compliance. ("Please don't go looking for a reason to not wear a mask" came up at this point.)
While you're encouraged to get your own mask, "Government will help with initial supplies of masks for people who cannot bring their own," says the province's statement about the new rule.
When the rule about masks on public transit was announced last week, an exception was made for children under two. Today, Strang added a bit of wiggle room for kids between two and four years old. Citing his own experience with cranky toddlers, he said in a situation where a caregiver simply can't get a kid to put on their mask, it's OK—the kid can skip the mask that time. "The last thing we want to do is have a mother be forced to leave a bus because their child is having a hard time."
Ultimately the new rule is simple: Masks reduce C19 transmission, so around other people you need to be have one on. This isn't the time to look for loopholes or excuses to take it off. "It's about caring for each other," Strang said. "Creating a positive community and using common sense." As he very nearly put it, when in doubt, wear a mask out.
For official information, the province talks about non-medical masks here. And the following is the list of indoor public spaces, cut and pasted straight from the provincial statement.
Indoor public places include:
— retail businesses
— shopping centres
— personal services businesses such as hair and nail salons, spas, body art facilities, except during services that require removing a mask
— restaurants and bars, except while people are eating or drinking
— places of worship or faith gatherings
— places for cultural or entertainment services or activities such as movie theatres, concerts and other performances
— places for sports and recreational activities such as a gym, pool or indoor tennis facility, except while doing an activity where a mask cannot be worn
— places for events such as conferences and receptions
— municipal or provincial government locations offering services to the public
— common areas of tourist accommodations such as lobbies, elevators and hallways
— common areas of office buildings such as lobbies, elevators and hallways, but not private offices
— public areas of a university or college campus, such as library or student union building, but not classrooms, labs, offices or residences
— train or bus stations, ferry terminals and airports
Tune in to The Steve & Strang Show
First the first time since last Friday, premier Stephen McNeil and chief medical officer of health Robert Strang are having a COVID-19 briefing. It starts today at 1pm. You can watch live at novascotia.ca/stayinformed/webcast, or catch it later at the Nova Scotia government's YouTube page.
It's just not COVID's day
Take that coronavirus—Nova Scotia is reporting no new cases. But Stephen McNeil's government has extended the state of emergency for another two weeks, to Sunday, August 9 (when precedent tells us it will be renewed again).
Thursday, July 23
Eight days straight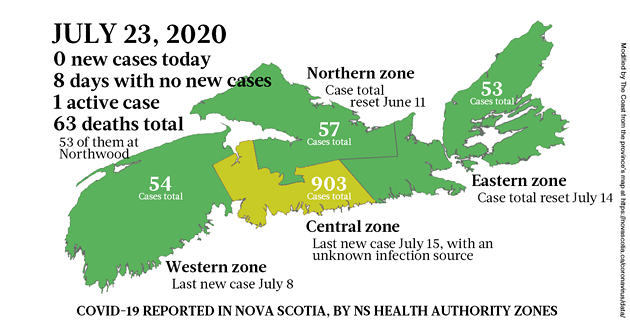 The province announced no new cases today, the eighth straight infectionless day. This is a routine we could get used to, although we are a little concerned about the one active case that's taking the patient a long time to recover from.
Wednesday, July 22
Going back to school
Top doc Robert Strang was at a webcast briefing, but in a major switcheroo, his government partner in information dissemination was not premier Stephen McNeil. That's right, today's session was all about Nova Scotia's back to school plan for the fall, and education minister Zach Churchill sat in with Strang. You can watch the rerun or just keep reading for the highlights. We're also posting the plan itself below. And later we'll be doing some analysis of the plan in a story here at thecoast.ca.
Gawd. If this all feels like homework, welcome back to school in July!
The biggest take-away from the plan is that—barring some COVID outbreak between now and then—school starts Tuesday, September 8, with all students from pre-primary through Grade 12 in the classroom, in class sizes the same as pre-pandemic. Desks will be spaced out as much as possible, but Strang knows in Nova Scotia's already-crowded school system, there's simply no space to afford students the same two metres of physical distancing he's been preaching to everybody else for months.

"Our goal is to have at least a metre space between desks," Strang said in the briefing. "And it's that first metre which is the most important metre."
Everybody returning to the classroom is only one of the plan's three levels: Other levels can be implemented as needed when there are disease outbreaks. And unlike most of Nova Scotia's C19 response, Strang says this plans is flexible enough to be applied to some schools or regions of the province but not others, all depending on the nature of the outbreak.
A step down from the "100 percent" or "full opening" level is the "partial" or "blended opening" model, where, as the plan says, "More COVID-19 protocols will be in place." Students in Grades 9 through 12 will be sent home for distance learning, while Grades 8 and under will have to spread out to allow the standard two metres of physical distancing between people.

Because those younger grades will definitely take up more space with full distancing, they will expand all the way to other schools as necessary. If a junior high goes into partial opening mode, sending the Grade 9s home opens up some classrooms for the 7s and 8s to spread into; if an area's elementary, junior high and high school go partial, the empty high school can be used for overflow classrooms.
Actually, high schools won't be completely empty. "All teachers and education staff will be in schools full time, participating in virtual and scheduled in-person instruction," says the plan, and some people will be allowed to keep going to school, particularly "students who have disproportionally experienced challenges with at-home learning and those without access to home internet."
For the third level, when C19 activity gets really intense, a school or district or even the province goes completely to learning from home. The plan calls it "At home learning." This last-ditch situation "would last only until it is safe to return to school with full or partial opening." No students would be at school in this scenario, but the plan includes several ways this version of distance learning would be an improvement on the version students and teachers (and parents and guardians) endured the first time around, after schools first shut down last March.
"Explicit expectations will be provided to all teachers, students, and families on what is expected during at home learning," the plan says. "All students are expected to participate fully in learning at home. In the rare circumstances where this cannot happen, the school team will develop a plan with the family." The province is getting 14,000 computers to help students without access to technology.
Nova Scotia's Back to School plan for September 2020
For more details on all three levels, attached is the full version of the plan. Or get a sense of what the province thinks is interested from the following points about the upcoming 100 percent opening, copy and pasted from the plan's official press release.
In September, students, families and staff can expect:

— Regional Centres for Education and the Conseil scolaire acadien provincial will have plans to support enhanced cleaning, physical distancing and situations specific to schools in their area

— classrooms to be reorganized to increase spacing

— treating a class as a bubble, to minimize contact with other students

— enhanced cleaning on school buses. All school bus riders and drivers will need to wear a mask

— all staff and students in high school will be required to wear a mask in school spaces where social distancing is not possible, for example hallways and common areas. Students and staff do not have to wear a mask in class, unless they want to, or if they are working with a student whose individual program plan requires a mask be worn

— regular handwashing or hand sanitizing by students and staff before entering school for classes and throughout the day

— in-school assemblies and other large gatherings will not be permitted

— cafeterias and school food programs will deliver food to students. Students will eat lunch at their desks

— students will have the opportunity to engage in all subject areas, although some subject areas may look different
Seven case-free days
With the province reporting no new cases yet again, Nova Scotia has now gone seven straight days without a case of COVID-19. The last case was last Wednesday, July 15, in the Central health zone.
That also means it's been 14 days since the Western zone last saw an infection—two full incubation cycles, an important measure for public health pros. Accordingly, we've downgraded the west's status on our map from cautious yellow to smooth-sailing green.With any luck, Central will be there next Wednesday.
Tuesday, July 21
All quiet
No new cases and no change on Nova Scotia's one active case, according to today's version of the province's daily report. You may now go back to the sweltering heat.
Monday, July 20
A no-case of the Mondays
The province's daily COVID-19 update is reporting no new cases of the disease, and one of the two recent active cases has recovered. Take that, Monday.
———
The collection of news updates from the July 13 week is here.

July 6 week is here.

June 29 week is here. June 22 week is here. June 15 week is here. June 8 week is here. June 1 week is here.

May 25 week is here. May 18 week is here. May 11 week is here. May 4 week is here.

April 27 week is here. April 20 week is here. April 13 week is here.