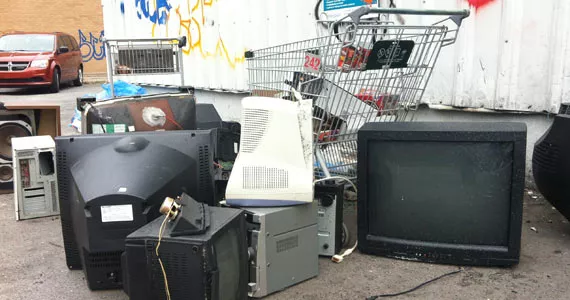 Even the most conscientious environmentalist can be stumped by a broken microwave or tube TV. Since your upcoming Saturdays are slotted for spring cleaning, here's the low-down on disposing of confusing junk---the stuff that curbs your curbside routine.
On top of daily garbage, recycling and green bin materials, HRM requires the separation of household hazardous waste, electronics and refrigerants. Batteries, paint, propane tanks and the like can be brought to the Household Hazardous Waste Depot at 20 Horseshoe Lake Drive in Bayers Lake.
"We don't want to risk chemicals getting into the water system or causing pollution," says Shannon Betts, waste resource analyst for HRM. Harmful materials are consolidated into barrels and moved out of province to a hazardous waste disposal site---it's like a landfill for toxins.
For refrigerants, protocol requires that "coolant gasses are captured and properly controlled so they don't contribute to depletion of the ozone layer." Call HRM and a contractor will collect the gasses and label the appliance for curbside disposal (households are allowed one bulky item per collection). When large appliances arrive at Otter Lake Waste Processing and Disposal Facility, they are recycled for scrap metal. "The main goal for us is to divert material away from the landfill," says Betts.
"People will only go so far when trying to find out where something goes," says Keith Johnson, general manager at Clifton Recycling Centre (2651 Clifton Street). He often finds tires, bed frames and vacuum cleaners outside the depot each morning. "Just because something is electric," he says, "doesn't make it an electronic."
The centre only accepts materials that have environmental fees included at the time of purchase, which is the case for electronics. They are recycled for their metal, like copper and gold. "You have to mine precious metals," says Johnson. "Steel you can just make." Clifton packs the electronics on pallets and sells them for pennies a kilogram. "As things shift from tube TVs to flat screens, profit is going to diminish because the weight is getting less and less."
When there is too much junk to manage, Wee Dump can help---it has the largest rentable trailers in Halifax. "Sometimes people just want stuff to go away," says owner Terry Reid. Only three percent of what Wee Dump collects goes to the landfill. Appliances are dismantled and recycled. Useable items are sold at the Wee Dump RePurpose Liquidation in Burnside, or donated to charities like the Salvation Army and the YWCA Supportive Housing for Young Mothers program. When he does go to the dump, Reid sees stuff that's still good. "Last summer I saw two brand-new canoes and they got smashed up," he laments. "But once it's there you can't take it away." --Beth Brown