Supreme Court justice Kevin Coady yesterday ordered a recount in the District 3: Dartmouth South-Eastern Passage council election.
click to enlarge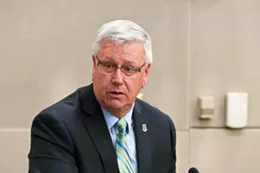 The race was contentious and tight throughout the campaign, with results coming in slowly election night, October 20. The next morning, Sunday, October 21, at 3:30am, the elections office areported that Jackie Barkhouse had defeated Bill Karsten by just six votes. But two days later, on October 23, elections officer Cathie Mellet announced that results from one polling place were incorrectly called in, and that an official count showed that Karsten, not Barkhouse, had won, by 68 votes.
click to enlarge
Oddly, Barkhouse herself did not contest that decision. But a citizen named Don Chard petitioned the court for a recount. Election law says that a petition for recount must be filed within 10 days, and Chard didn't file until October 31, which was 11 days after the election.
But Coady reportedly ruled that the election law should be interpreted liberally, and that the 10-day count could be taken to start the day after the election, or even from October 23, the day Mellet made her official count.
Coady will conduct the recount himself, on November 28.