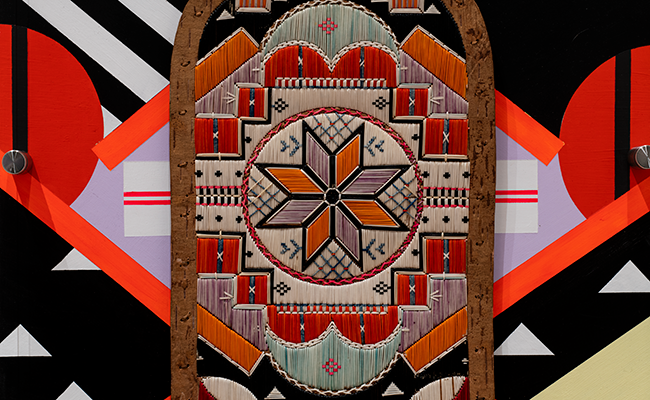 Jordan Bennett, Ketu' elmita'jik
To March 31
Art Gallery of Nova Scotia 1923 Hollis Street
The use of colour in Jordan Bennett's Ketu' elmita'jik is almost dizzying. Standing in front of a patch of gallery wall painted an impressive neon red, you can imagine how Bennett and the Art Gallery of Nova Scotia's prep team might have felt staring into the intense colour during the show's install, but Bennett's use of the space gives all of its dynamic elements plenty of room to breathe.
The elements that make up Ketu' elmita'jik (They Want to Go Home) will be familiar to most gallery visitors: Quillwork boxes and panels (often found in many museums) on one hand, and painted murals (more familiar in the context of street art, perhaps) on the other. But the seamless blending of these elements through pattern and colour is what is most striking about the installation.
Like a wheel or a swirling nebula, many of the pieces have a central point that expands and grows. Mining museum collections, Bennett has gathered stunning examples of Mi'kmaq quillwork from the 17th through 19th centuries, by many artists whose names are no longer known to us, and incorporated them into the installation. Flat quillwork pieces, seats and backs of chairs—though the idea of anyone actually sitting on such delicate handiwork may be bewildering to some viewers—are sandwiched between two clear Plexiglas sheets, the back piece painted to expand on the pattern found in the quillwork.
In some pieces this pattern grows and moves to the wall, covering great expanses of the curving, corridor-like space of the AGNS's north gallery's second floor. The margins of the quillwork object are dissolved and its rhythms and colours explode behind it, in careful, meticulous application of paint in more and more vibrant colours and complex patterns. Bennett, the Atlantic nominee for the 2018 Sobey Art Award, was inspired by the neon pink he found in some of the quillwork, and played off the vibrancy of that hue in the rest of the installation.
For many of these quillwork pieces, it's the first time they have been to the Atlantic since they were made. "They want to come home," says Bennett. For these wall pieces he intentionally left space on the sides of their Plexiglas displays, so that after so many years in museum drawers and vaults these objects could breathe.
One quill box gets this same paint and Plexiglas treatment, in more subdued rust and earth tones, while in their own case five colourful boxes, arranged Russian-doll style from largest to smallest, have elements pulled from their intricate and brightly coloured designs now found on the wall of their case. Another element from their patterning can be seen near the very top of the gallery wall in that same neon red—a border of squares that would traditionally edge a basket now runs along the top edge of the gallery, turning the very space into a basket of sorts. It is as though Bennett has broken down all of the boxes typically found in a gallery—frames, display cases and even the white cube of the venue itself dissolve, and the lines between object and space, micro and macro and contemporary and historical become imperceptible.
In addition to Mi'kmaq quillwork, Bennett also pulls inspiration from the work of the Beothuk, historic inhabitants of his home territory of Ktaqamkuk (Newfoundland). Bennett creates large, detailed Beothuk pendant designs and brings the long, curving elements of those designs onto wooden panels and painted on the gallery wall. These drawings are some of the only art objects that will exist in their current state once Ketu' elmita'jik comes down: The wall paintings will be covered up with layers of white and the quillwork returned to the museums they were loaned from.
But Bennett is comfortable with this, temporality: He knows it well as both an installation and a Mi'kmaw artist. In his December artist talk he explained that so much of Indigenous material history was used and worn away with time (there were quill boxes made long before the 1700s, after all), and is content for his work to fill that same temporality, for it to have its own respective life span.