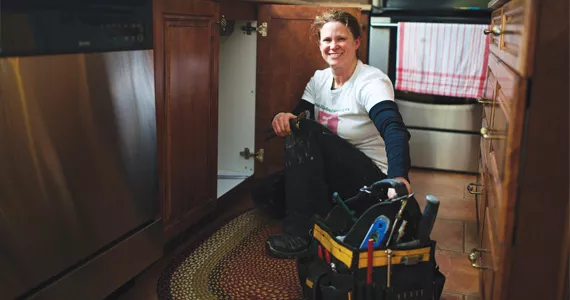 What made you want to start your own plumbing company?
Sherri Lee: We started Small Jobs Plumbing because despite eight years of experience, Tammy wasn't making the money she felt she deserved. As the only female plumber at her former place of employment, she was the lowest paid, despite having seniority over many of her teammates. With the cost of living increasing year after year, her wages were not. After a denied request for better pay, we decided to start our own company.
What are common mistakes people make when renovating their bathroom, and how can they be avoided?
Tammy Buchanan: Ensuring bathroom renovations meet building codes requires experts, specifically plumbers and electricians. Not doing so can pose risks to your safety and possibly even your life, and/or result in costly water damage. From structurally weakening your home to making your family vulnerable to electrical shocks and toxic mold, improperly installed bathroom upgrades can cost you. Bathroom renovations are best left to the experts.
One of the most common mistakes people make renovating their bathroom is not protecting the bathroom from mold, specifically the shower or bath set-up. The walls surrounding your tub/shower should be cement board and not Gyprock, and further protected using the various products available in the marketplace like roll on water resistant barriers or fabrics. The grout around tile is not waterproof. Over time water will penetrate through the grout and leave moisture on your walls with no way of drying, thus causing the growth of mold, which as we all know has serious health consequences.
There are numerous rules and regulations required when plumbing a bathroom that are in place to protect you from methane gases. Even when an obvious odor of methane is not present there can still be methane. If you or the person renovating your bathroom isn't knowledgeable to these rules it is wise to hire a licensed plumber to ensure you and your family will be protected from the harmful effects of methane.
How do you know when it's time to replace your plumbing, does it have a life span?
TB: There is an expected life span for plumbing, depending on the quality and type of materials used, if it was properly installed and environmental conditions. For example, flushing or draining harsh chemicals will always reduce the life expectancy of your plumbing system since they are known to corrode and be harmful to the inside wall structure of your plumbing.
If your home is more than 50 years old it should definitely be inspected in order to determine its condition. You can have a licensed plumber visually inspect your system, or go as far as to have a plumber scope (camera) the inside of your drainage system to see what kind of erosion exists. We advocate yearly plumbing system inspections for all homes, especially older ones. Very often changes in the system can be detected, eliminating the potential for unexpected and costly repairs due to water or sewer leakage.
Let's say I've bought a really old, total fixer-upper. Can you offer some advice for where I should begin when it comes to the plumbing?
TB: A piece of valuable information for those looking to buy an older home: Home insurance companies are increasingly looking for inspections from a licensed plumber for most older homes because of the likelihood of lead and cast iron pipe. Some set guidelines that would require the removal of cast iron or lead piping if it exceeds 20 percent of the household plumbing in order to receive insurance. Talk with your insurance company before you purchase an older home to inquire about their policies regarding existing plumbing.
Should I call in a plumber to assess it, or will an inspector normally catch anything that's suspect?
SL: Many home insurance companies are now requiring licensed plumbers to inspect the plumbing of older homes, even with a completed home inspection, before they will insure the home. We receive such calls frequently. It's why we have decided to offer a plumbing inspection service. It's not just a good idea for older homes—historically most people only think about their plumbing when there is a problem. We believe many common plumbing problems can be avoided, saving inconvenient and costly repairs. A little preventive maintenance and an annual inspection could save homeowners thousands of dollars.
Red Seal plumber Tammy Buchanan and Sherri Lee started Small Jobs Plumbing in early 2014. They aim to offer the best rates in the HRM without sacrificing credentials. smalljobsplumbing.ca 902-252-0461